Tips on How to Win at Business Travel
Tips on How to Win at Business Travel
Not every guest that stays with us at Cable Mountain Lodge is there for recreation only. Springdale and Zion NP lodging locations almost all have space for conventions, business meetings, etc. At Cable Mountain we certainly do and it gets used a lot. What better place to hold a business meeting, corporate retreat, training seminar, or annual convention than Zion National Park? There are pieces of advice that, if followed, will maximize your next business trip and make it as comfortable and efficient as possible. Here's what we've learned after decades in the hospitality industry when it comes to business travel.
Think about efficiency from the very first step of your business trip: booking flights. It is almost always worth the money (if there is a cost associated. Sometimes there isn't.) to upgrade to the convenience of either priority boarding pre-booking your seats on the plane. These easily-acquired amenities can be implemented with almost no effort at all by simply clicking the option online and paying a small fee (depending). It will mean the elimination of a line that you would otherwise have to wait in and will work wonders for your mental state. And certainly, if you travel for business a lot, make sure to become a member of the executive lounge (different airlines call this status by different names) which will surely come with all sorts of additional perks and conveniences such as free internet on the plane or complimentary food and drink. And this goes without saying, but make sure that you know precisely the route you need to take to get to the airport before you get in the car, even when you've booked Zion NP lodging.
When selecting your hotel, be sure to book a room at a hotel that will make getting to your meeting or convention as simple as possible. Choosing Zion NP lodging at the very hotel where the meeting is going to take place is obviously the most logical choice.
When it comes to packing for business travel, it always a good idea to pack with the expectation that your luggage is going to get lost. What we mean is plan for the worst where packing for business travel is concerned. Do this by including all essentials in your carry-on such as any prescription meds, wallet, important documents, your laptop, chargers, money, and a change of clothes. Many business travelers even save their important presentations, documents, etc, onto a USB drive and keep it in their carry-on. Very smart.

The savvy business traveler knows that when it comes to their clothing, items that don't crease, are dark in color, and uniformly match with each other so that everything is interchangeable is the way to go. Folding clothes is the traditional way to pack, but the truth is that rolling your clothes better prevents wrinkles. And bring shoe-shine wipes and a travel bottle of stain remover. A need for one or both of those items is sure to come up eventually.
Always save receipts when making any kind of purchase on a business trip involving Zion NP lodging. This makes being reimbursed by your company very easy, not to mention that it will make organizing your eventual tax right-offs very simple.

The quality of your sleep is vital on a business trip. We recommend bringing an eye mask and earplugs when traveling for business and staying in Zion NP lodging. Perhaps consider staying away from bars late at night and trade that for a good night sleep.
Make sure to put time on your itinerary for some relaxation if possible, even if it's only a couple of hours a day. Even if you use that time to wake up and hit the gym in your Zion NP lodging establishment. As a hotel near Zion, Cable Mountain Lodge knows how important it is to spend at least some time in recreation during business travel. Zion is the perfect place to do this.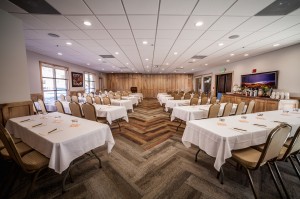 Tips on How to Win at Business Travel
Zion NP Lodging
Article by Clear Content Marketing