3 Awesome Zion Backpacking Hikes
3 Awesome Zion Backpacking Hikes
Zion is a backpacking haven where adventurists of all ages and experience levels can have the time of their lives. If you're a backpacker, you need to check out Zion if you haven't already. This list will get you started on your Zion backpacking journey. There are a lot more overnight trails than the ones listed here, but these are the three that many consider the best in the park. When it comes to outdoor adventure activities, it's hard to beat the unique experience of overnight backpacking. Reprioritize, reenergize, and reset your body and mind by going on the most memorable kind of hike. Always remember that when you go Zion backpacking, plan out everything beforehand including a specific departure and return time so that you know where you're supposed to be when the sun starts going down.
West Rim Trail
To really get the most out of this fantastic trail, start at Lava Point which is the top-down route. There are other ways to approach this Zion backpacking route, but we've found that this is the most preferred route. The starting point is 19 miles from Springdale. It's better to get a ride up there by utilizing a friend or a local adventure company, otherwise, you'll have to figure out how to get your vehicle back from the trailhead after your Zion backpacking trip is over. This is a strenuous hike, even though it's mostly downhill. One really neat thing about the West Rim Trail is that as you go along you are rewarded with increasingly fantastic scenery – it gets better as you get further in. Also, Angel's Landing is part of this route toward the end. Total length is about 18 miles.
The Narrows (Top-Down Route)
We've mentioned the Narrows before in previous articles, but it most definitely bears mentioning in a discussion about the very best overnight Zion backpacking hikes. We recommend the full, 17-mile, top-down route. Like the West Rim Trail, it's better to have someone drop you off so you don't have to drive all the way back up to the trailhead to retrieve your car. This two-day, overnight Zion backpacking hike will be one of the best experiences you'll ever have. The hike begins somewhat unremarkably but soon transforms into incredible slot canyons that tower over you as you make your way through the river. There are designated, numbered campsites that begin to show themselves about halfway down the Narrows which need to be reserved beforehand. Always remember to check the weather when planning a Zion backpacking trip to the Narrows because significant rainfall can result in flash floods.
La Verkin Creek Trail
This overnight Zion backpacking trail needs to be milked for everything it's worth due to it's shorter length when compared to the Narrows and the West Rim Trail. But it is most definitely worth it. The scenery and sights along this hike are wonderful. If you've ever heard of the Kolob Arch – one Zion National Park's famous landmarks – this is a trail to see it. One recommendation we have for this particular Zion backpacking hike is to extend for a second night so that you can continue on to Willis Creek, which will reward you with even more amazing viewpoints. One great thing about La Verkin Creek Trail are it's top quality designated campsites. There are many of them along the way. If you really like camping, you definitely need to put this Zion backpacking trail on your to-do list. It may become one of your favorite camping locations.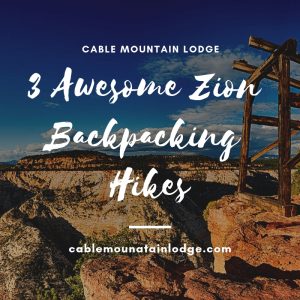 3 Awesome Backpacking Hikes in Zion
Article By: Clear Content Marketing