Bryce Canyon National Park
Visit Bryce Canyon National Park Today
Fairy chimneys, goblins, castles and towers—these are just a few of the phrases used to describe the geologic wonders in Bryce Canyon National Park. At only a couple of hours from Cable Mountain Lodge, Bryce Canyon offers an array of exhilarating activities for anyone looking for an adventure with Mother Nature.
Hiking
Bryce Canyon National Park offers hikes catered to every activity level. From the legendary hoodoo formations and spectacular panoramic views, to the 1,000+ year-old Bristlecone pines, Bryce Canyon is home to a wealth of geologic and visual marvels.
Easy: Bristlecone Loop Trail

This hike offers a quick jaunt through a fir forest of the oldest tree species in the world. The bristlecone pine can live to be thousands of years old and is only found in six states, including Utah. This one-mile loop reaches elevations of 9,100 feet as it leads hikers through dense clusters of different pine trees. These include Ponderosa Pine, Douglas fir, White Fir, and Blue Spruce. You are certain to see some furry locals in the thick forest, which makes it the perfect habitat for squirrels, Ravens, Steller's Jays, and owls. The trail can close in the winter due to snow, so the best time to visit is April-October. Bristlecone Loop is accessible at the southern region of the park at Rainbow Point.

Moderate: The Queens Garden/Navajo Combination Loop

Some visitors have described this hike as one of the best national park trails in Utah. They say it's akin to visiting another planet. At 2.9 miles round trip, this well trafficked trail gives a canyon top perspective but also lets you peer at the hoodoos up close on the canyon floor. The trail winds up and down through stone passageways, ancient pine trees, and majestic rock formations. Thor's Hammer is a crowd favorite, with a narrow shaft and wide top resembling the mythological hammer of the Norse god. The Queen Victoria formation casts a fascinating resemblance of a regal form with a billowing dress. Others like Gulliver's Castle, the Queen's Castle, and the Queen's Garden are vibrant displays of orange, pink, brown, and yellow. During the winter this hike offers a brilliant white snow, orange canyon, blue sky contrast. This is a trail for every season. Though this is one of the easier "below the rim" hikes that is kid friendly, it's considered moderate with a 600-foot elevation change. The wide sandy trail is often open to the sun so be sure to wear sunscreen and bring enough water. The trailhead starts at the Sunset Point parking area.

Strenuous: Fairyland Loop Trail

For a less crowded and more adventurous hike, the Fairytale Loop Trail is ideal. This spectacular 8.8 mile trail takes about 4-5 hours depending on how often you stop to enjoy the view and rest. This loop begins at Fairytale Point Trailhead. It's located at the northern section of Bryce Canyon National Park, and leads you along a 1,575 foot elevation change from the rim to the canyon floor. As you climb out of Fairytale Canyon, you will see remarkable views of Sinking Ship Mesa. Be sure to trek the 200 yards for a glimpse of Tower Bridge, the perfect place to eat lunch and take out the camera. Navigation for Fairytale loop is straightforward, with a well-marked and direct path.
Ranger Guided Activities
What is a 'hoodoo'? How does the Bristlecone Pine survive in the desert? Bryce Canyon National Park offers Ranger guided programs for kids and adults. Their job is to lead you through the curiosities of this geologically spectacular park. (And in case you're wondering, hoodoos are tall pinnacles of rock found in arid drainage basins, like Bryce Canyon). Ranger led programs vary depending on the season so be sure to check with the Visitor Center at (435) 834-4747. Here are some favorite and free ranger guided activities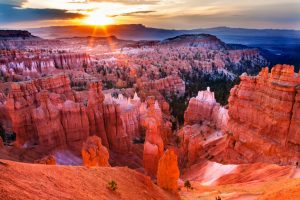 :
Geology Talks

You don't need to reserve your spot for this daily discussion on Bryce Canyon's unique geologic history. Come learn about ancient lakes, frost wedging, and how hoodoos form. Contact the visitor center for a current schedule. Meet at Sunset Point or the Visitor Center Auditorium (during winter).

Astronomy Programs

The night sky at Bryce Canyon lets visitors view over 7,500 stars! Ranger evening programs like the Starry Nights Telescope Viewing are free of charge. For an up to date schedule and to reserve your spot call the Visitor Center at (435) 834-4747.

Rim Walk

Enjoy the views along the rim of the Bryce Amphitheater as a ranger talks you through the cultural history, wildlife biology, and scientific discoveries within Bryce Canyon National Park. The 1 mile round trip takes 1.5 hours and happens throughout the day. The meeting spot is at Sunset Point.
Book Your Adventure Today
To get started on your spring and summer getaway, call us and book your reservations at Cable Mountain Lodge and plan your adventures in the surrounding national parks! We look forward to seeing you and showing the beauty of our national parks.