[vc_row][vc_column][vc_column_text]Are you ready to seek out an adventure? Springdale, Utah is home to many attractions and is the gateway to Zion National Park in Utah. Sitting on the southern border of Zion's, this small town is a perfect place to get away from the daily hustle and bustle. While hotels in Springdale are luxurious and modern, it is the sites surrounding the area that truly help them stand out!
Visiting Springdale
For a century following its settlement, Springdale was an isolated area due to the nature of Zion National Park and its large canyons. While people found the area attractive, it wasn't considered an area to work, leaving this remote area unpopulated. The Zion-Mt. Carmel Highway and Tunnel changed the landscape in the 1930's. It allowed workers and tourists to come through this area. Now, the tunnel is one of the many attractions you'll want to see when visiting Zion National Park. Even though Springdale is now a tourist town, it still holds many of its charming pioneer qualities. Take some time to walk through the town where you can see pioneer architecture throughout. Many of the residents are friendly to tourists and will even allow you to walk through old homesteads on their property. You can learn more about Springdale's history here.
What Can I Do in Springdale?
If you are seeking a Zion National Park hotel, be sure to book your stay early! Zion National Park is one of the most popular travel destinations in Utah, and hotels fill up quickly. It is important to take the time to plan your trip in advance to find the best Springdale hotels but to book at a time that works for you. If you book in the winter, make sure the hotel has a heated pool and hot tub. Others book in the heat of the summer, stopping them from truly enjoying the hikes in the area due to the intense heat of Southern Utah. Fortunately, no matter what time of year you choose to visit, there are plenty of indoor and outdoor adventures in the area. Here are just a few things to help you get started: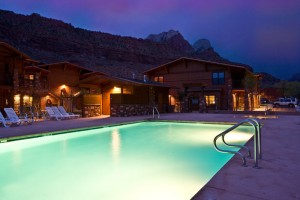 River rafting on the Virgin River
Small cultural events happening year round
Outdoor eating
Multiple small businesses offering fun, hand-made items
Red rock scenery to enjoy
Community art
Open parks and spaces to enjoy
Clean air, clean town, and a small, quaint feeling
O.C. Tanner Amphitheatre
IMAX Theater
Ghostly Grafton
Book a Sightseeing Tour
Anyone that is looking for a great time in Springdale should consider booking a sightseeing tour. You can often book a tour through the hotel you are staying at, or the hotel can recommend some tourist places to visit. The sightseeing tours not only take you into the heart of Zion National Park, they can provide wild adventure rides for many people. Depending on what you would like to do, you can have a tour involving white-water rapids, horseback riding, rock climbing, and even four-wheeling.
If you want to stay in town and enjoy some of the local shops and art, take some time to visit the David J. West Art Gallery. The gallery has a relaxing feeling to it and has gorgeous photography of the area and other art pieces that you are bound to bring home with you. You may even be able to meet Mr. West himself, who is happy to share more about his photographs.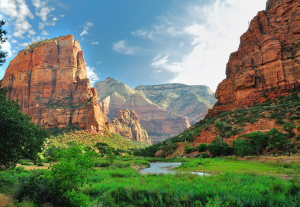 Helicopter Tours
Many people want to see the world from above, and the landscape around Zion National Park is one that you need to see. Booking a helicopter tour is a great way to take in all the landscape that this magical area has to offer. The massive red rocks, diverse canyons, and rivers show the world in a new light. Consider seeing from above to give your trip an extra adventure this year!
Relaxing Hotels
If you spend a great deal of time hiking around the park, you need to book a Springdale suite with the right accommodations to paper yourself! While a dip in the pool is refreshing, you will enjoy an all-inclusive hotel that provides spa services and could even be the destination for your dream wedding!
Don't delay, book your vacation to Springdale, Utah, and come see the magical red rocks and unique landscape of Zion National Park!
[/vc_column_text][/vc_column][/vc_row]