History of Zion National Park
Discovered in the late 1700's by Silvestre Vélez de Escalante and Francisco Atanasio Domínguez, Zion National Park has a reputation for its majestic beauty. The park was named Zion by the Mormon pioneers that settled the land in the 1800s. Gorgeous rock formations carved into the rock by the Virgin river create a unique experience for guests. Since then, the park has seen over 2 million visitors every year since 1990, with more than 4.2 million people visiting in 2016.
William Taft designated Zion as a National Park in 1909 to preserve the integrity of the area. Zion National Park is home to thousands of plant species, 289 species of birds, 75 different kinds of mammals, and 32 varieties of reptile. It creates a fascinating backdrop for tourists and biologists alike.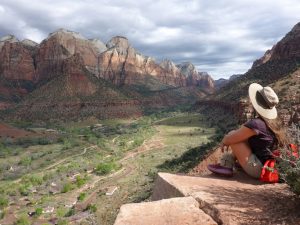 Zion Canyon Village marks the entrance to the park. It is a bustling city center that preserves the relaxed and organic feel of the park. All traffic to Zion National Park runs through Zion Canyon Village. Also, all shuttles to and from the park connect in this area. Besides enjoying an interesting visitor center and historical area, guests can also take advantage of convenient amenities. These include the Happy Camper Market, the local Brew Pub, and of course, Cable Mountain Lodge.
In Springdale, we want to make exploring Zion national park as convenient as possible. Zion National Park and Zion Canyon Village offer a top-of-the-line shuttle service. With nine convenient stops throughout Springdale and the surrounding area, they run every 10-20 minutes. That way, guests don't have to worry about missing their shuttle or getting back to their hotel from the park entrance. Riding the shuttle is complimentary , and transfer loops occur through the Zion Canyon Visitor Center. For more information about the park's shuttle service, just tune your radio to 1610 AM.
Leisure Activities The Whole Family Will Enjoy
Whether you want to hike the narrows and enjoy the solitude of Kolob canyon or spending an afternoon shopping and lounging by a pool, Zion National Park has activities the whole family will enjoy. Here are just a few of the different activities you can take part in during your visit, and why Cable Mountain Lodge is the perfect place to rest at the end of the day.
Backpacking and Hiking

Zion National Park has incredible hiking trails made for canyoneers of all skill levels. Whether you are looking for a challenging hike through the slot canyons or you want to take your entire family on a nice afternoon walk, there is a perfect Zion Canyon hiking trail to fit your preferences. Guests can either hike trails on their own or go on hikes led by experienced park rangers. This will take some of the stress out of exploring safely. All overnight backpacking trips need a Wilderness permit, which the visitor's center provide. Hiking trail descriptions and locations are found on the National Park Service website.

Bird Watching

Bird watchers across the world flock to Zion National Park to enjoy birding, as the park features more than 200 different varieties of birds. The list includes the Bald Eagle, the California Condor, the Peregrine Falcon, and even the Mexican Spotted Owl. Zion National Park is a designated IBA (Important Bird and Biodiversity Area) location. It is a location that abides by an international law to protect local wildlife and plant life.

Horseback Riding

If you want to get out into the open and enjoy some fresh air without increasing the size of your carbon footprint, you might like seeing the area from the back of a horse. Guided horseback riding trips are available March through October.

Rock Climbing

Whether you prefer top-roping or bouldering, Zion National Park has a rock climbing area for everyone. You can even get a permit for overnight bivouacs if you don't want to head back to your hotel until the morning.

Shopping

Don't worry if you forgot the sunscreen. Zion Canyon Village has a few grocery stores and country markets where you can stock up on food and supplies. The Happy Camper Market in Zion Canyon Village even offers a 20% discount if you are staying with Cable Mountain Lodge. If you are looking for souvenirs, you can also visit Toaquim's Gifts and Gear. There you'll find great T-shirts, Native American jewelry, and even equipment for your backpacking or camping trip. This store also includes a discount if you show your Cable Mountain Lodge room keys.

Dining

If you are tired of MRE packs and tinfoil dinners, stop by Zion Canyon Brew Pub to enjoy great food and a large variety of craft beers. As an added bonus, guests of Cable Mountain Lodge enjoy a 20% discount on food items just for showing their room key.
Cable Mountain Lodge: The Perfect Complement to Zion National Park
After you finish exploring the beauty of Zion National Park, head back to Cable Mountain Lodge to enjoy first-class amenities. Complimentary wireless internet, luxurious bedding, and a 24 hour concierge service are some of our perks! With a wide variety of rooms and a crystal clear swimming pool and hot tub, this comfortable hotel in Springdale will help you to get the rest you need before your next hike. To schedule your next stay, contact Cable Mountain Lodge today.