[vc_row][vc_column][vc_column_text]
Your New Winter Adventure Destination
Summer schedules fill up fast, but you can visit Zion National Park all year, even during the winter. Although it might seem strange to plan a hiking trip when the weather is cold, southern Utah is notorious for its mild winters. That makes it easy to plan your next vacation at Cable Mountain Lodge.
Although rainfall is common during the winters at Zion National Park, average daily temperatures are usually between 50-60°F —the perfect weather for hiking, biking, and exploring. Snow melts away within a few hours of falling, making it possible to hike popular trails without trudging through snow. The park service does an excellent job plowing roads and monitoring existing hiking trails. You can access your hotel easily and learn about current conditions before you head out for the day.
The majority of visitors come to Zion National Park between April and October. Visiting during the winter gives you the chance to explore pristine scenery without heavy crowds or full shuttles. Here are just a few fun things to do in Zion National Park during the winter months. For more information on each activity, please check out our links below.
Biking
The winter season is one of the best times to enjoy biking in Zion National Park. You can take your bike through some of the more popular trails inside of the park. Many visitors also enjoy traveling along the six and a half mile Scenic Drive that offers views of rock formations and the canyon. Advanced riders can ride on the Gooseberry Mesa, in the southwest area of the park. Bikers can also enjoy riding on slick rock and navigating through a variety of technical challenges.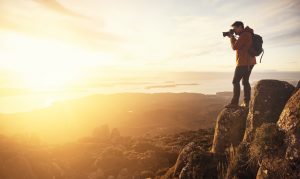 Cross-Country Skiing
Several adventure touring companies offer cross-country skiing expeditions through the park. In addition to exploring the scenic views of Zion National Park, cross-country skiing is a great way to get your heart rate up during your vacation.
Fine Dining
Are you the mood for a juicy burger or are you looking for an expertly seared steak? Zion National Park offers a wide variety of restaurants to suit your tastes and budget. From the regionally sourced, healthy cuisine of Café Soleil to the spicy Latin-inspired dishes of the Whiptail Grill, Springdale has enough restaurants to keep you looking forward to your next meal.
Snow and ice can cover some portions of popular trails throughout Zion National Park during the winter. The Visitor's Center offers up-to-date information about all trail closures. Since some trails are too hot to hike during the more popular summer months, many visitors enjoy exploring the Huber Wash, Scoggins Wash, Coalpits Wash, and Chinle trails during the winter.
Photography
If you love photography, Zion National Park might become your destination during the winter. Because of the temperate climate, the park is teeming with plants and animals—even during the colder times of the year. Since park attendance is lower in the winter months, photographers have the chance to enjoy great shots without worrying about removing those tourists in the post.
Snow Shoeing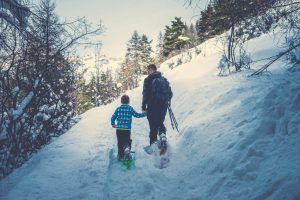 One of the best things about Zion National Park is that it gives visitors the option between snow and snow-free activities all throughout the winter. For an outdoor adventure to remember, consider snowshoeing through Kolob Canyon. Located about twenty minutes up Kolob Terrace Road, you can enjoy snowshoeing through Cave Valley and Hop Valley.
Wildlife Viewing
When the winter cools, the animals come down from the mountains. This gives tourists the unique opportunity to view a variety of wildlife. Besides seeing deer, elk, and bighorn sheep, visitors might also spot wild turkeys and Golden Eagles.
To get outside without working up a sweat, consider going on a long winter drive through Zion National park. US Highway 9 goes through the park's eastern region and crosses over ridges where snowfall is common. The national park service plows this area year-round, which is why it rarely contains dangerous packed snow.
If you want to explore or photograph scenic outlooks, check out Kolob Canyons Road. This scenic road is typically open throughout the day during the winter. It has several trailheads where you can pull over and snapshots of the surrounding area. Known for its beauty, Kolob Terrace Road crosses through the park but is usually closed when snowfall is heavy.
If you are planning a winter drive through Zion National Park, keep in mind that things like winter storms and cold snaps could change accessibility to some of your favorite places. Like other activities, always check with the visitor's center before you head out for the day.
Head Back To Your Luxurious Suite
When you finish exploring the winter wonderland of Zion National Park, you can head back to our suites in Springdale. You can enjoy the incredible amenities offered by Cable Mountain Lodge! Known for being one of the best Zion National Park hotels, Cable Mountain Lodge offers premium bedding, complimentary Internet service, and an on-site hot tub and pool where you can unwind. Book your room today to schedule your next wintertime adventure.[/vc_column_text][/vc_column][/vc_row]