3 Things to Remember For Your Zion Vacation
3 Things to Remember For Your Zion Vacation
With more people planning trips to Zion every year, it's prudent to remind everyone of three important considerations that are specific to national park vacations – and perhaps Zion in particular. At Cable Mountain Lodge, we strive to make sure every one of our guests have the best possible Springdale/Zion Canyon experience. Part of that ongoing effort is educating travelers on certain aspects of vacationing here that should be considered before finalizing any plans. Here are 3 important things to remember for your Zion vacation.
Visitor Experience Varies Depending on The Season
The busiest season of the year in Zion National Park is the summer. Though summertime is the most popular time of the year for Springdale tourism, know that there are some things that you can almost surely expect when staying in Zion Canyon during this time. Though the shuttle system is efficient, chances are you and your party will experience some waits – and not just at shuttle stops. Because of the high volume of visitors during peak season, it's likely that you'll deal with lines at restaurants and other places around town and in the park as well, depending on the trail. Popular trails such as Angel's Landing, Riverside Walk, and others will require most hikers to share the trail with many others also on their Zion vacation. For some people, crowds of fellow tourists is a part of traveling that really makes it feel like a vacation. And remember that it's certainly possible that you won't have to wait very much (or at all) during a summer Zion vacation.
But know that the chances are much higher if you choose to take your Zion vacation during peak season. A great alternative is to visit Springdale between Nov and Feb. If crowds aren't your thing, this will be a wonderful time for you to come. Hotel vacancies will 2 be more plentiful and you'll probably have the trails all to yourself (or close to it). The weather is cooler, sure, but the overall experience will be much smoother, quieter, and less stressful.
Multiple Nights Are Recommended
The day you come home from a vacation is always bittersweet (or just bitter). But this is especially true for a Zion vacation that only lasts one day. Springdale and Zion Canyon together concoct one of the most incredible and spectacular places on Earth and if you can put in your itinerary to stay for more than one night, we promise you'll be thanking yourself (as will the others in your party). Now, this doesn't mean that one day isn't worth it because it certainly is without a doubt. But booking a room at Cable Mountain Lodge for multiple nights so that you can not only experience the park as much as possible but also the town of Springdale and the many amenities of our establishment will pay off big dividends. Just trust us on this one. Make a special effort to stay as long as you can on your Zion vacation.
Relax in Addition to Your Outdoor Adventures
Zion National Park has more than enough outdoor adventure to fill weeks of vacation itineraries. But don't forget to plan some time on your Zion vacation to simply kick back and relax at your lodge and explore the magic of Springdale, UT, the nation's best gateway town. Go for some walks through the Cable Mountain Lodge grounds or on the many paths and sidewalks spread throughout the town. Spend some time at the pool with the majesty of Zion's colorful cliffs all around you. In our opinion, every Zion vacation plan should include some rest and relaxation. It makes a trip full of adventure complete and even more memorable.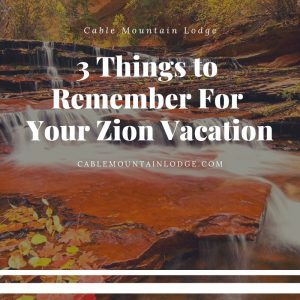 3 Things to Remember For Your Zion Vacation
Article By: Clear Content Marketing