4 Zion Facts You Didn't Know Before
4 Zion Facts You Didn't Know Before
Of all the national parks in the United States, Zion is certainly one of the most well known. Landmarks like The Narrows and Angel's Landing – to name only two – are familiar to the majority of travelers, even if they have never been to Springdale, UT. Zion Canyon is one of the most beautiful places on Earth and has remained an outdoor enthusiasts dreamland as its popularity began to grow since its federal recognition in the early 20th century. How many times have you visited Zion National Park? How much do you know about this famous place? The history of Zion is extremely interesting and is laced with some surprisingly not-so-well-known facts. To test your knowledge, here are 4 Zion facts that you may not have known.
Zion Was The Parks' Second Official Name
There are many neat Zion facts surrounding the naming of the park. In 1909, Taft was the United States President and was responsible for putting the stamp of approval on the park's name. But they didn't start with the name Zion National Park. The park's original name was actually Mukuntuweap National Monument, using a native Paiute word that translates roughly to "straight canyon". The Paiute tribe were living in and around the area known today as Zion and it was decided that Mukuntuweap would be the name of the new federally recognized land. However, because the word is difficult to pronounce and to spell, it was changed nine years later (1918) to Zion National Monument under the approval of then U.S. Pres. Wilson and Horace Mann, who was interim National Parks Service director at the time. Then, the following year, in 1919, changed a final time to Zion National Park, the name which remains today.
A National Engineering Marvel Resides in Zion
If you've driven through Zion, do you remember driving on Zion-Mt. Carmel Highway and through the long tunnel cut into the mountain? That tunnel is actually quite famous in engineering history and has some interesting Zion facts behind it. It was one of the first of it's kind, is 1.1 miles long, and cuts through sandstone and vertical cliffs. One unique feature are the windows that are cut out of the cliffside wall bringing in light and allowing passersby to briefly see out onto the landscape.
Zion Changes Every Day
This is one of our favorite Zion facts. The main reason that much of the beauty found in the park exists is due to the constant flow of the Virgin River, a river that runs right through Zion and has for countless years. The channel is perpetually widening and deepening as approximately a million tons of sediment are removed every single year due to the river's constant flow, flash floods being the main culprit in sediment relocation. The constant carving and reshaping of the landscape leaves Zion National Park a bit different every time you visit. Aren't Zion facts cool?
One of The Biggest Freestanding Arches in the World is in Zion
The State of Utah has many national parks that are known for their arches, but Zion is usually not one of them. However, the park isn't completely devoid of arches and related Zion facts. One, in particular, is more than 285 feet long. This special landmark is called Kolob Arch and is located not in the main canyon of Zion National Park but rather in the Kolob Canyons District. Kolob Arch holds second place honors among the world's largest freestanding arches. If you've never been to this backcountry section of Zion, we recommend that you do which will allow you to see this incredible landmark!
Conclusion
How many of these Zion facts did you already know? Did you learn something new? In addition to the bits of information listed here, there are many more interesting facts about Zion National Park.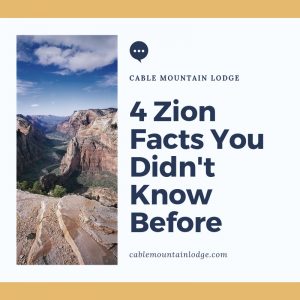 4 Zion Facts You Didn't Know Before
Article By: Clear Content Marketing