5 Reasons Why You Need to Stay at Cable Mountain Lodge
5 Reasons Why You Need to Stay at Cable Mountain Lodge
When it comes to choosing accommodations near Zion National Park, there is no better choice than Cable Mountain Lodge. With the hotel's 10 year anniversary upon us, here are 5 reasons why you need to stay at Cable Mountain Lodge in Springdale, UT.
It's the closest hotel to the park
Cable Mountain has the luxury of being the absolute closest hotel to the entrance of Zion National Park. When you stay here, you take advantage of the ultimate convenience factor. A path on the property leads directly into Zion allowing guests to simply exit their hotel room and enter the park in a matter of minutes, even seconds depending on your room location. No need to get in your car for any reason during your stay. You'll be within a very short walking distance of everything you would need during your stay: supermarket, restaurants, outfitters, shuttle stops. Literally being Zion National Park's next door neighbor does have its benefits.
Discounts at sister properties
When you are a guest at Cable Mountain Lodge, you qualify for significant discounts at affiliated business, all of which are within mere steps from the property. Companies such as Zion Outfitters, Happy Camper Market, Zion Brew Pub, Toaquim's Village, and more have nice discounts waiting for every guest. Cable Mountain facilitates an all-around wonderful Springdale & Zion Canyon experience by incorporating exclusive pricing options with these top-quality establishments.
The views are unparalleled
This one will likely not come as a surprise to anyone who's visited Springdale, UT before. But the scenic views that you'll be privy to when staying at Cable Mountain will be unforgettable – and that is a guarantee. Zion Canyon is one of the most beautiful places on Earth and this particular lodge showcases it like no other property in town. No matter what room you stay in, you'll have an eye-catching visual feast out most any window or balcony.
26 brand new rooms
The space that was once the Zion Canyon Giant Screen Theatre is being remodeled and converted into an extension of Cable Mountain Lodge. Before the month of September is over, the construction taking place on the property will come to a close, opening the door to 26 brand new rooms including the "Grand Residence", which will undoubtedly be one of the most coveted rooms in Zion Canyon. Bringing the total number of rooms to over 70, Cable Mountain's new additions will elevate this incredible property to even higher heights than it has already reached.
Brand new spa and conference center opening soon
The new property addition described above also includes a large, state-of-the-art spa facility that will open in February 2019 featuring a large number of treatments and services, some of which will be the first of their kind to be offered in Southern Utah. On-site spa service is one of traveling's best-loved amenities and is particularly applicable for outdoor enthusiasts and adventurers who hike, climb, and bike through Zion Canyon. Spa treatments rejuvenate and reenergize the body – perfect for trail-weary guest. In addition to the spa, a huge conference center space with adjoining kitchen facilities will be available as well.
The options of what can be done and experienced during a vacation to Zion National Park continues to expand as Cable Mountain Lodge pushes through boundaries and continually takes steps to offer new and unique amenities for their guests. If there was any question about CML being the best hotel in Springdale before, there certainly isn't now. For your upcoming trip to Zion, choose Cable Mountain Lodge as your home away from home. Everything is taken care of – and more.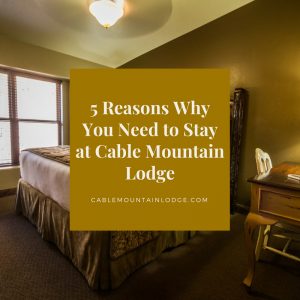 5 Reasons Why You Need to Stay at Cable Mountain Lodge
Cable Mountain
Article by Clear Content Marketing