Where to Get Coffee Near Zion National Park
Where to Get Coffee Near Zion National Park
If there's one thing you need when traveling away from home, it's coffee. The day just can't be started without it. Often, the necessary energy to get through each day on your trip itinerary is dependent on the acquisition of your favorite espresso. That being said, there are few things worse than a disappointing cup of coffee. Lucky for you, when it comes to hot drinks, Springdale is one of the best locations in the entire state of Utah. There are multiple locations in town that, according to a certain number of reviews, make some of the best cups you've ever had. Here are our 5 location recommendations for both coffee enthusiasts and casual consumers. You're definitely going to want to save this article for your upcoming trip to Zion National Park.
Perks at Zion
When you stay at Cable Mountain Lodge – the closest hotel to the Park's entrance – you're in good hands when it comes to coffee. Perks is a well-loved smoothie and espresso joint with locations throughout the So. Utah area. Within the last year, Perks opened up their newest location which just happens to be located in the lobby of Cable Mountain Lodge. These folks are known for making delicious brews in addition to many other beverage and food options. The convenience factor along with their high-quality products puts Perks at Zion first on our list.
Deep Creek Coffee Company
Located in the middle of town, Deep Creek is home not only to world-class coffee but also to the local and tourist favorite, the Bro-rito, the best breakfast burrito ever. Their java is made from beans acquired from local, small-batch roasters. The atmosphere here is very relaxing and welcoming. It will be hard leave once you enter, so be warned.
Cafe Soleil
In 2005, Cafe Soleil started with killer coffee and a small menu. Over ten years later, the coffee is still killer but the menu is much larger. Due to a smart and consistent operation, delicious specialty coffees, and an amazing location, Cafe Soleil has become one of the most well-known and well- loved food-and-drink establishments in Zion Canyon. Cafe Soleil have very tasty food with a substantial number of vegan and vegetarian options.
Meme's Cafe
This cozy dining establishment takes it cue from European cafes as you'll notice when you enter. Their gourmet espresso drinks are to die for. It's a fantastic place to have coffee and a meal. Choose from entrees like crepes, quiche, waffles, burgers, soup, slow roasted pork, desserts, and more. But be sure to get an espresso. This establishment gains many repeat visitors because of their hot drinks.
River Rock Roasting Company
Though this coffee joint is not located directly in Springdale, it is close enough – and most definitely good enough – to merit a place on a list naming the best coffee shops near Zion National Park. River Rock Roasting Company resides in La Verkin, UT, a small town that you have to pass through on your way to Zion if you're traveling north on I-15 and then driving through Hurricane, UT as most do when coming from that direction. This is a favorite spot for many Southern Utah locals due to impeccably crafted coffee and a diverse menu of additional food choices. A big draw of this particular coffee shop is the view from the outdoor seating area. While sipping a delicious drink on their balcony, you'll see an amazing view of Basalt Canyon. River Rock also has a second, drive- through location located just a little ways from their dine-in location on the way to Zion Canyon.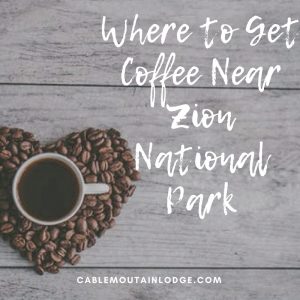 Where to Get Coffee Near Zion National Park
Article By: Clear Content Marketing