Four Zion Hiking Favorites
Four Zion Hiking Favorites
Zion National Park is considered one of the best hiking locations in the world. Whether your a hiking enthusiast or a casual hiker, there are so many trials in Zion that anyone will find a hike suitable for the type of adventure they're looking for. There are over a hundred named trails inside the park boundaries, considering all park sections together (The Main Canyon, Upper East Canyon, The Narrows, The Kolob Terrace, The Kolob Canyon Section, The Desert Lowlands). Creating a list of Zion hiking favorites is difficult, but we attempted to describe to you four of most beloved trails in Zion National Park. These trails, to us, represent Zion hiking at it's best. We made sure to include at least one lesser-known trail so that you can get out and experience some of the incredible beauty outside the main canyon.
The Narrows
The Narrows is this writer's favorite hike of all time. Many others would agree without a doubt. It is simply one of the most unique hiking experiences imaginable. Trekking through clear, flowing water the entire time is something else, in addition to offering a nice contrast to the hot sun. The sun in The Narrows is not a big issue because you're hiking in a narrow canyon where you're surrounded by towering cliff faces on either side. So this trail offers a natural element of comfort, in that regard. We recommend renting a walking stick, canyoneering boots, and Neoprene socks from Zion Outfitter before making your way in for some Zion hiking. The full Narrows trek is a 17-mile, top-down experience with an overnight option that you'll never forget. Or, you can start at the bottom at the Temple of Sinawana by way of Riverside Walk and simply walk up the river as far as you want and then turn around and come back the way you came.
Angel's Landing
Likely Zion's most popular hike, Angel's Landing is 100% unforgettable and is the park's best-known attraction. To say the viewpoint at the peak is breathtaking would be an understatement. It must be seen to be believed. This strenuous hike is not for the faint of heart as there are some exposed sections that require visitors to be on their safest and best Zion hiking behavior, but reaching the top will be something you will never forget. Be wise when it comes to bringing children of a certain age. It may be best to leave the little ones at home when venturing out on Angel's Landing. But certainly, bring your camera because you'll treasure the photos you take forever on this Zion hiking route.
Emerald Pools
Though Emerald Pools is nowhere near as strenuous as Zion hiking in Angel's Landing, this trail (particular the route to the lower pool) gives every visitor – from young child to the wise and elderly – an opportunity to experience an incredible slice of Zion National Park. If you prefer, you can continue past the lower pool on to the midlevel pool and then finally to the upper pool, each leg becoming a bit more strenuous than the last. Depending on the time of year, the pools fluctuate in size and appearance. You may even see a waterfall or two. But in our opinion, one of the main draws of Emerald Pools is how it showcases everything unique and characteristic about Zion hiking within its relatively short duration. There are some great views here.
Taylor Creek
The Taylor Creek trail is located not in the main canyon where the majority of tourists congregate but is found in the Kolob section, a more removed section of Zion National Park. Visiting this area offers Zion hiking and outdoor adventures that are quieter, devoid of much of the hustle and bustle that often characterizes Zion's main canyon. You'll see a lot more animals here as well as more large tracts of lush, green landscapes. One of the best things about the Taylor Creek trail is that it's almost all in the shade in addition to being beautiful. Zion hiking in the Kolob section is a wonderful discovery if you've never been there.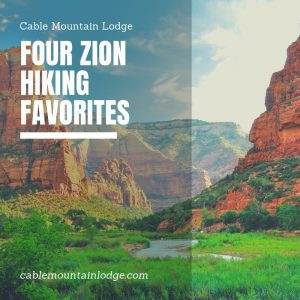 Four Zion Hiking Favorites
Article By: Clear Content Marketing