History Of Springdale, Utah
History Of Springdale, Utah
The History of Springdale, Utah begins with archeological evidence of basket-making people in the region of Zion Canyon as early as 500 A.D.  Later, the Anazasi Indians inhabited the area until about 1200 A.D. In the 18th and 19th Centuries, Paiute Indians occupied the region, using its Virgin River to grow crops.  Mormon Pioneers, mostly Europeans, settled parts of the Zion Canyon area in mid to late 19th Century.
First Explorers
In 1776, the Dominguez-Escalante party was the region's first European explorers.  They crossed the Virgin River near today's town of LaVerkin. Brigham Young, President of the Church of Jesus Christ of Latter-Day Saints sent a group of Mormon settlers in 1862 to Southern Utah to raise cotton.  Some of them settled at the mouth of the canyon where Springdale stands today. According to locals, Albert Petty, a Mormon settler, took his wife to a spot near natural springs, where he would build them a house. Mrs. Petty named the spot "Springdale."
In 1864, Springdale was a branch of the larger town of Rockville, where Springdale residents could shop, attend Church, mail letters, and send messages by telegraph.  Springdale's first public building for church and school was built by 1885. The first post office appeared around 1897.
Early Life
Early history in Springdale was rough.  Because of little commerce with other cities and businesses, Springdale's residents were skilled do-it-yourselfers, from making tools to clothes to houses.  They also stayed prepared for occasional flash floods which rushed down the canyon. Without these strong-willed people, the history of Springdale would be like that of a ghost town.
Conveniences were few, yet the hearty residents educated their children, lived their religion, and worked to grow settlement.  Children took turns working in the crop fields and attending school, where they learned reading, writing, and arithmetic.
It wasn't until 1912 that the hidden gem of Springdale got exposure to the "outside world."  Improved, dirt roads enabled a person from another Southern Utah town to drive a car to Springdale.  Then by 1917, folks from the Salt Lake City area started visiting Springdale and staying overnight at Wylie Way Camp.  Springdale would never be the same.
Mukuntuweap National Monument
Mukuntuweap National Monument (later changed to Zion National Park) was dedicated in 1920.   The governmental protection of the beautiful region and potential revenue from tourism prompted the installation of electricity, access to gasoline, tourist camps, and stores.  Later came a paved road and telephones. Many young workers left their farms to work in the Park.
A big boost to the development and history of Springdale involves its access. The closed nature of the Park meant no access from the East, so in 1930, a one-mile tunnel was dedicated and called, The Zion-Mt. Carmel Highway.  The great tunnel allowed transportation from the east end of the Park. Carved into sandstone, it opened more doors to the magnificence of Zion National Park.
Growth and Commerce
By 1959, Springdale became an incorporated municipality.  Gradually, the predominantly Mormon residents and businesses have given way to more electric and contemporary commerce, attracting tourists from the world over.  Fortunately, some Mormon architecture and artifacts are still visible and preserved throughout this charming town. The history of Springdale represents people of many walks of life who embody commitment, enterprise, and love of nature.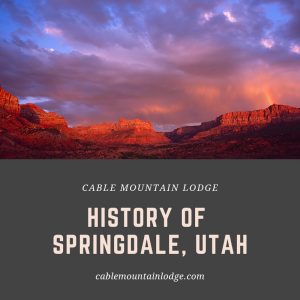 History Of Springdale, Utah
Article By: Clear Content Marketing