Happy New Year from Cable Mountain Lodge!
Happy New Year from Cable Mountain Lodge!
Happy New Year from Cable Mountain Lodge! We could not be more excited for 2018. We have great things in store and are ecstatic that the new year is underway. Zion National Park is going to be better than ever this year and we sincerely hope that you will be a part of it. While all of you are creating your list of New Year's resolutions, consider putting "visit Zion" near the top! Of all the hotels close to Zion National Park, Cable Mountain Lodge is the one with rooms just waiting for you!
In addition to all of the personal growth-related resolutions that many folks set at the beginning of a new year, travel goals are becoming more common than ever. Springdale is a wonderful place to start the habit of traveling, especially if you live close. It won't cost you an arm and a leg and it won't take long to get here. Hotels close to Zion National Park, especially Cable Mountain Lodge, have the luxury of residing in Utah's true paradise. The beauty of the area is astounding and Cable Mountain knocks on Zion's front door as the closest hotel to the park. If you are hoping to find a new and incredible place to visit in 2018, this is it.
We have been gearing up for the new year with big near-future plans for our property in our on-going effort to continue being the absolute best lodge in Zion Canyon. We view each and every new year as a challenge to outdo ourselves in service, beauty, comfort, luxury, and experience. Everything that we do is for our guests. We want Cable Mountain Lodge to be your home away from home and for you to feel a connection with us, to feel a sense of ownership, that a part of Cable Mountain belongs to you. That is one of our highest aspirations. We have a passion for Zion National Park and for the city of Springdale and hope that we can instill the same passion within all of our guests who stay with us during this new year. We hope that we will provide the best experience yet for our returning friends as well as our first-time visitors.
Again, Happy New Year to all of you! We wish all of you the best year imaginable and hope that we see you in Springdale in 2018!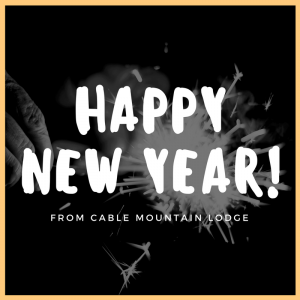 Happy New Year from Cable Mountain Lodge!
Hotels Close to Zion National Park
Article by Clear Content Marketing