Springdale Hotels and Attractions
Springdale Hotels and Attractions
The charming town of Springdale, Utah is a delightful oasis in the high desert of Southern Utah.  Being at the entrance to Zion National Park, it attracts over four million visitors each year from all parts of the globe.  This article presents the best things about Springdale, namely the Springdale hotels, tasty restaurants, prolific gift shops, and, of course, Zion Canyon.
Springdale Hotels
The Springdale hotels range from the familiar national chains to one-of-a-kind gems.  Super 8 and Holiday Inn Express are offered, but special memories of a trip to Zion National Park are enhanced by the flavor of the other Springdale hotels, such as Cable Mountain Lodge.  Rated up to 4.5 stars by Yelp and TripAdvisor, Cable Mountain lodge features luxurious rooms, stunning views, and all the nice amenities.  It is close to the park, the Outfitter stores, and park shuttle, which takes visitors to and from the park all day.
Cable Mountain Lodge has spaces for meetings and weddings, group venues, exclusive picnic area, great outdoor excursions, and special prices for seasons and groups.  In addition to Cable Mountain Lodge, other Springdale hotels are Cliffrose Lodge and Gardens, Pioneer Lodge, Driftwood, Majestic View, and Watchman Villas for complete vacation rentals.
Springdale Restaurants
Besides the Springdale hotels, the town has award-winning eateries with variety, including American, Mexican, Italian, bistro, gourmet coffee, fast food, and Chinese cuisine.  Tourists love the local, traditional recipes, as well as the specialties brought in by out-of-state chefs.
The King's Landing Bistro has a reputation for excellent food and drink to delight the palate and relax the mind.  Reviewers consistently rank it as a top restaurant in Springdale. Tamera Burton founded Café Soleil in Springdale back in 2005, which offers Panini sandwiches, soups, and great breakfasts.  She saw the need for a specialty coffee shop which would also offer vegetarian dishes and nutritious sandwiches. Oscar's Café is known for its variety of American and Mexican foods, including omelets, pancakes, breakfast burritos, burgers, salads, seafood, sandwiches, and wraps.  
Springdale Gift Shops
Several gift shops have become must-sees for travelers.  One specializes in gorgeous photography of Southern Utah, while others display hand-made crafts, imported sculptures of metal, glass, wood, and clay; authentic products made by Navajo Indians, and all the artwork, trinkets, and souvenirs you can imagine.
Zion National Park
"Come to Zion, come to Zion," sang the Mormon Pioneers, but not specifically referring to the park; however, four million visitors each year come to Zion, and for good reason.  The majestic vistas are amazing, hikes rejuvenating, rock formations awe-inspiring, and colors stunning. The most iconic hike of Zion is Angels Landing, which takes you five miles round trip, climaxing at a spectacular view of part of "God's country."  To get to the Landing, you must bravely trek a narrow ridge that looks at death, off both sides. There are shorter and longer trails at Zion Canyon. They range from mild to moderate to strenuous intensity, so plan accordingly.  Ask the rangers in the Zion Visitors Center which trails are kid-friendly and which require a real-athlete membership card.
So, the best things about Springdale, Utah are the unique and classy Springdale hotels, delicious restaurants, delightful gift shops, and the magnificent Zion National Park.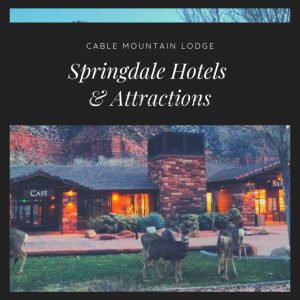 Springdale Hotels and Attractions
Article By: Clear Content Marketing