The Closest Hotel to Zion National Park
[vc_row][vc_column][vc_column_text]
The Closest Hotel to Zion National Park
When you go on a trip to a particular location for a particular attraction, ideally you want your hotel to be as close as possible to said attraction to maximize convenience as much as possible. If Zion National Park is your destination, then Cable Mountain Lodge should be at the top of your Springdale hotels list. It quite literally is the closest hotel to the entrance of the park – an incredibly desirable characteristic that the other Springdale hotels cannot boast. A path to the park's Visitor Center is located directly on the property along the Virgin River. Mere steps and you're there. It doesn't get any more convenient than that.
But the proximity to Zion National Park is by no means the only thing Cable Mountain Lodge has going for it. This is one of the best hotels in Springdale, all things considered. If you've stayed here before, you know how much care they put into the style and comfort level all their rooms. Studios, suites, and everything in between, every room is outfitted with a rustic, Zion theme and has every amenity you can imagine. Honeymoons, family vacations, corporate retreats; you name it – this is the place to go. They also have multiple areas on site that are used for weddings and other gatherings, some of which are along the Virgin River. The whole property is picture-perfect. Deer and other wildlife are often seen right on the grounds. You really couldn't hope for anything more amazing.
Once more, their convenient location does more than just give patrons quick access to Zion. It also gives immediate access to Zion Canyon Village where guests will find various shopping and dining options within walking distance of each other. What's more, there are maintained picnic areas in the property's rear section where you can bring the food you purchased in Zion Canyon Village or bring your own food to cook on one of the grills which can be found at every picnic site. Each site also has ample seating already there for you.
The cliffs of Zion that surround Cable Mountain Lodge would be enough on their own to bring visitors back year after year, but the Cable Mountain team has created something incredible on their own, something that you'll want to return to again and again. Of all the Springdale hotels, make Cable Mountain Lodge your first choice. Visit CableMountainLodge.com and reserve your rooms today.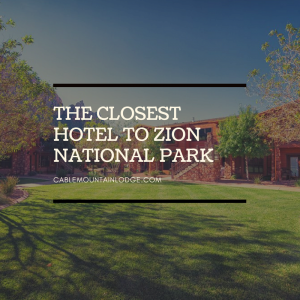 The Closest Hotel to Zion National Park
Springdale Hotels
Article by Clear Content Marketing
[/vc_column_text][/vc_column][/vc_row]