Top 3 Reasons to Stay the Night in Springdale, UT
Top 3 Reasons to Stay the Night in Springdale, UT
Springdale, UT is one of the nation's fastest-climbing destination locations. If you've stayed here before, the above statement may not be so surprising. If you haven't, it will be pretty easy to see why upon first visit. Springdale is a surprisingly incredible place considering its size. There's a lot to do and see there, even without considering its proximity to Zion National Park, which is why millions of people stay multiple nights in Springdale every single year. Here are the top 3 reasons to stay the night in a Springdale, UT.
Zion's Front Porch
Zion National Park is one of the most well-known and popular national parks in the country, and Springdale is by nickname and quite literally the Gateway to Zion. If you plan a trip to Zion, Springdale is where you stay. In a very real sense, they are one and the same. The unforgettable beauty of the towering, multicolored cliffs, the other-worldly slot canyons – in order to get to these things, you go by way of Springdale. Call it luck, circumstance, or destiny, the city of Springdale, UT is fortunate to benefit from being the closest city to Zion National Park. But you'd be incorrect to assume that standing on the shoulders of Zion is all that the city has going for it. In fact, you'd be flat-out wrong. But we'll get to that in items 2 and 3.
High-Quality Entertainment and Dining
The term high-quality can often be relative since everyone's tastes and interests are different. In this case, however, we mean it literally. The restaurant circuit in Springdale is perhaps what you'd expect from a location with a much higher and established culinary reputation. Springdale achieves this by importing many accomplished chefs from Las Vegas and other culinary hotspots in addition to utilizing the passion and dedication of local and long-established restaurant owners, the majority of which have truly made a name for themselves in food tourism. And where entertainment is concerned, the O.C. Tanner Amphitheater perpetually features marquee talent from a variety of genres and local restaurants also feature acoustic nights. The townhouses many art galleries, festivals, and parades throughout the year.
Variety of Lodging Choices
It doesn't matter what your cup of tea is when it comes to how and where you prefer to lay your head on a trip. If vacationing in style is your thing, you've got nothing to worry about in Springdale. The town's accommodations include many luxury resorts and spas. Planning on bringing your RV and sleeping in it? You're covered. Anything in between those two is certainly available as well.
Conclusion
Springdale is such an appealing place on so many fronts that a much longer list could easily be written. This will suffice for now, but know that if you're looking for a legitimate destination location for your next vacation, Springdale, UT will is a place that is all but guaranteed to meet your expectations – and then some.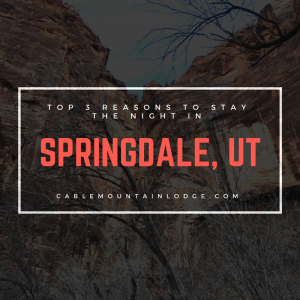 Top 3 Reasons to Stay the Night in Springdale, UT
Springdale, UT
Article by Clear Content Marketing