The Best Zion Park Accommodations
The Best Zion Park Accommodations
For a truly unforgettable vacation, consider Southern Utah and its national parks—Zion and Bryce.  Why? Because there's no place like them. Their rare beauty and adventurous features attract millions of people each year.  Vibrant colors, majestic rock formations, exhilarating hikes, and stunning vistas all make a visit to Southern Utah a magnificent experience.  What's really nice is that Zion Park accommodations are just outside the park's main entrance in Springdale, Utah.  This article presents plenty of good reasons to stay in Springdale and enjoy Zion Canyon Village on your next Southern Utah getaway.
Zion Canyon Villiage
Conveniently located adjacent to the entrance to Zion National Park, this charming campus of Zion Park accommodations will make fond memories to share with your family and friends for years to come.  The flagship structure of Zion Canyon Village is Cable Mountain Lodge, one of the finest lodges in Utah.  The rooms are both indulgent and classically rustic, and the outdoor pool and Jacuzzi are surrounded by beautiful views of the canyon and surrounding red mountains.  Cable Mountain Lodge has a gift shop, free wireless internet, two computer stations, and a free shuttle to whisk you back and forth to the Zion Visitors Center, in case walking the short distance doesn't suit you.
Just outside the Cable Mountain Lodge are the Happy Camper Market (small grocery store), Zion Outfitters, Perk's Coffee Shop, and the award-winning Brew Pub.  The Brew Pub has its own micro-brewery to create fresh and unique beers. It also serves delicious burgers, fish and chips, and hearty salads. Perk's Coffee Shop serves tasty coffees, espresso, smoothies, pastries, and more.   Zion Outfitters is a mainstay of Zion Canyon Village and rents outdoor sports equipment like canoes, tubes, and other fun stuff. Happy Camper Market stocks everything from firewood to keep you warm and ice to keep your food and drinks cold.  The kitchen serves fresh breakfasts and lunches, and the Beer Grotto overflows with local, domestic, and international ice-cold beers. If you need other stuff, peruse the souvenirs, camping gear, sunglasses, hats, fresh produce, meats, and other sundries at the Happy Camper Market.
Other Zion Park Accommodations
A variety of other Zion Park accommodations are up for choosing.  National chain hotels and several unique hotels are willing to meet your needs.  From two to three and a half stars, these hotels are comfortable and convenient, but none is closer to the Park than Cable Mountain Lodge.  
Springdale is full of delightful gift shops and delicious restaurants, whose menus cater to anyone's taste.  Views are gorgeous all over town. The gift shops display popular souvenirs and beautiful art pieces from local and distant artists.  One shop specializes in stunning photographs to show off in your home. Another store stocks sculptures, skillfully made of glass, metals, and wood—all rare and of quality craftsmanship.  You can also find crafts, like jewelry, hand-made by the local Navajo Indians, as well.
So, if Southern Utah is on your bucket list, be sure to check out the Zion Canyon Village for the best in Zion Park accommodations.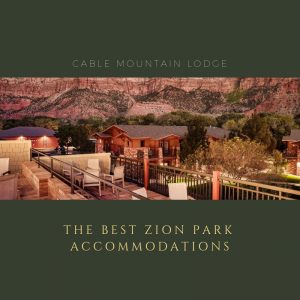 The Best Zion Park Accommodations
Article By: Clear Content Marketing