The Best Zion Restaurants
The Best Zion Restaurants
If a trip to Zion National Park is on your bucket list, and traveling with a kitchen in your vehicle is not your style, then you'll want to know about the best eateries, surrounding Zion.  Some are conveniently located within five minutes of Zion's main entrance in the charming town of Springdale, Utah, and other options of the best Zion restaurants are less than an hour's drive away.  Because of the millions of visitors to Zion each year, you'll find a great selection of competitive and delicious restaurants, featuring all the usual foods found in a large city, plus some pleasing surprises in the form of local, traditional recipes.
Springdale Restaurants
The best Zion restaurants offer the variety found in Anytown, USA.  Dishes range from traditional Pioneer recipes to professional cuisine brought in by award-winning chefs from other states.
The Brew Pub, adjacent to Cable Mountain Lodge, has its own micro-brewery, assuring fresh and unique beers for the brew lovers.  Brew Pub is a cool Sports Bar and Grill, complete with big TVs for watching the game. The menu is mostly American, showcasing excellent burgers, fish and chips, and hearty salads, loaded up with your favorite veggies and toppings.
Zion Canyon Village
Brew Pub and Cable Mountain Lodge rest in Zion Canyon Village, just outside Zion's main entrance, along with other popular businesses, like Zion Outfitters and the Happy Camper Market.  Zion Outfitters provides equipment for outdoor sports enthusiasts. Canoes, tubes, and other items can be rented for your playing pleasure. The Happy Camper Market is a small grocery store.  Cable Mountain Lodge is a classy hotel with a variety of rooms to offer—including one-bed and two-bed rooms. Suites feature kitchenettes with everything except a range, and the larger suites, called residences, are equipped with ranges in their full kitchens.   Outside the lodge are areas for grilling and picnicking, along with a beautiful pool and Jacuzzi. Cable Mountain Lodge Prices change with seasonal demands, so staying in December through February will get you a killer deal.
The Spotted Dog Café is an American bistro which offers menu changes with the seasons.  Of the best Zion restaurants, the Spotted Dog is famous for its delicious breakfast buffet, served from 7:00 am to 11:00 am daily.  The buffet glistens with fruit, oatmeal, eggs, bacon, muffins, biscuits and gravy, French toast, and yogurts.  
Another one of the best Zion restaurants known for excellent customer service and tasty Mexican food is the Whiptail Grill Zion.  Choose among Southwestern, vegetarian, Asian, or American burgers, along with your choice of beer and wine.  
Bit and Spur Restaurant and Saloon is also known for excellent Mexican food.  Satisfied customers of Bit and Spur just keep coming back. Bit and Spur began in the 70s as a bar and pool hall.  In 1981, a restaurant was added by Chef Michael Perry. Later, a second great chef, Brad Tarran, arrived to bolster the cuisine with mouth-watering dishes like Hawaiian seafood, roasted pineapple risotto, and deep-fried, green tomatoes.  To make the experience more romantic, live music is common at Bit and Spur.
So, the Zion Restaurants are well-loved for their variety, quality, and good-times atmosphere.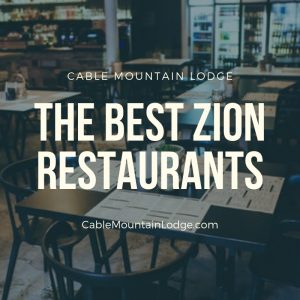 The Best Zion Restaurants
Article By: Clear Content Marketing