4 Fantastic Small Utah Towns
4 Fantastic Small Utah Towns
Tourism is one of the biggest and fastest growing industries in Utah. As traveling becomes more popular in the modern world of technology and convenience, many cities within the Beehive State have seen an increase in the number of visitors in recent years. This is not a surprise as Utah has some of the most spectacular natural wonders on Earth. One thing that you may not know, however, are the large numbers of small but incredible towns within state boundaries. The 4 locations on this list represent some of the best and most memorable smaller cities in Utah – places that really pack a punch despite their size and can hold their own as travel destinations. How many of these have you been to? What's your favorite small Utah town?
Springdale
The town of Springdale has skyrocketed in recent years, becoming one of Utah's most popular tourist destinations. The growing acclaim of Zion National Park, Springdale's neighbor, has certainly helped its reputation. But this powerful, small Utah town is about as efficient as any gateway city you will ever visit. With a population of under 600, the residents, business owners, and city planners have truly showcased an excellent ability to play host to millions of park visitors on an annual basis while still maintaining a wonderful small-Utah town charm. It's worth mentioning that the restaurants here are phenomenal as are the majority of lodges and hotels, like Cable Mountain Lodge – the closest hotel to Zion.
Moab
Though Moab is one of Utah's most well-known cities when it comes to travel, it earns a place on our list because, considering size and population, it is definitely a small Utah town. It's similar to Springdale in some ways, mainly because it serves as a gateway town to another national park, Arches. Canyonlands National Park is also very close to Moab. When it comes to outdoor adventure, Moab is many enthusiast's top choice. Mountain biking, jeeping, hiking, and rock climbing are some very popular activities here. The red sandstone landscapes and rock formations are stunningly beautiful in addition to versatile as they provide the perfect terrain for all things outdoors. Very little snow and a mostly hot climate also help make Moab an awesome place to visit and a great small Utah town.
Midway
This Northern Utah town is nestled on the Wasatch mountains and has a whole lot to offer. With amazing mountain vistas and panoramic views, your eyes will certainly have a lot to admire. Some of the additional things that make this Utah town great include Swiss Days and the Homestead Caldera. Swiss Days is a yearly festival that's become quite well-known in Utah, with tons of food vendors, craft booths, live entertainment, a parade, and more. The Homestead Caldera is a 40-foot deep, natural, geothermal hot pool that you will never forget. Maintaining an annual temperature of between 90-95 degrees, you can scuba dive and swim in it.
Garden City
This amazing small Utah town lies near Bear Lake in the northern part of the state in a large valley. The 18-mile lake is one Garden City's main draws which, due to its turquoise water, is sometimes called the Caribbean of the Rockies. With a seasonally fluctuating population, this unique place sees a good amount of snow in the winter which lends to alternative actives that still attract many visitors. A great event in Garden City is Raspberry Days which is a local festival. Live theater is also popular in this Utah town at an establishment called Pickleville Playhouse.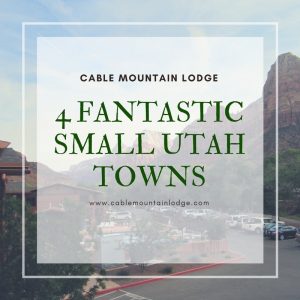 4 Fantastic Small Utah Towns
Utah Town
Article by Clear Content Marketing