When is the Best Time to Plan a Zion Trip?
When is the Best Time to Plan a Zion Trip?
Vacation style and location preferences differ from person to person, with summer being the most common time of year that people travel. This certainly is the case for Zion National Park, as the middle of the year is what we refer to as our peak season. The warm summer weather of Southern Utah is a big attraction to millions of tourists every year. But because the majority of visitors are taking their Zion trip in the summer does not mean that's the only time they can or should.
The best time to visit Zion can certainly be personal preference, and we also understand that
personal and work schedules often dictate the only time that a particular person or family can take a vacation. But specific times of the year yield different experiences for Zion National Park visitors. Here are a couple of things to remember if you intend to come to Springdale during the summer or on certain holidays, which are the busiest times of the year.
Holidays
Because work and school are often canceled on particular holidays, families naturally (and
understandably) tend to plan their Zion trip around those specific dates. It's worth noting that where Zion National Park is concerned, there are 5 holidays that are consistently some of the busiest days of the year. Labor Day, 4th of July, Memorial Day weekend, Easter weekend, and President's Day weekend. Shuttle lines, restaurant waits, scarce hotel vacancy, other similar occurrences are likely to be experienced when planning a Zion trip for these dates. It's not a guarantee, but it's more than likely. Be sure to make your room reservations at Cable Mountain Lodge months or a year in advance to secure your accommodations if you plan on taking a Zion trip on one of these five holidays.
Summer
With the kids out of school and the weather on point, May through August consistently brings the highest concentration of visitors to Zion. This is also the case for the majority of national parks across the U.S. However, don't count out the off-season months. The weather in Springdale during the fall, for example, is quite pleasant. The temperatures are a bit lower than the summer months but not much. Planning an off-season Zion trip is an excellent way to beat the crowds, relish in more hotel vacancies, and explore the park with more solitude and peace. If this sounds like the kind of vacation that you prefer, we highly recommend the off-season. Contrary to what you may have heard, snow is Zion is extremely rare – and when snow does fall during winter months, it almost never sticks. Nearly everything in the park and in Springdale is open year round. We mention this to remind travelers that summer isn't the only time to visit Zion. The off-season Zion trip can be less
stressful, easier to plan, and equally or more enjoyable depending on your travel preferences.
Conclusion
So when is the best time to visit Zion National Park? Some people will say summer, some will say spring or fall. Our opinion is that the best time to visit Zion is whenever you are able to make it over here, and that's the truth. Just remember what is to be expected on a Zion trip during particular times of the year as certain days and months are much busier than others. If you're more of a spontaneous vacation taker, the off-season may be a better choice for you as impromptu accommodations will more likely be available. If you plan far in advance, the summer may work out just fine for you. Whatever you plan on doing, we're pleased that you're coming in the first place!
Visit cablemountainlodge.com for more Zion trip suggestions and information about Zion National Park.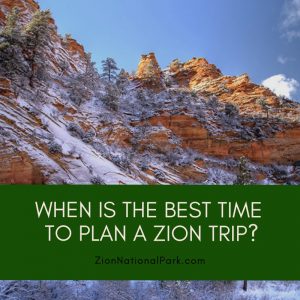 When is the Best Time to Plan a Zion Trip?
Article By: Clear Content Marketing