The Rise of Zion National Park: An Early History
The Rise of Zion National Park: An Early History
Zion National Park is one of the United State's most beloved locations. But Zion was, in fact, not the park's original name. Mukuntuweap National Monument, the park's first name, was christened in 1909 by U.S. President Taft. But, by 1919, the name was changed to Zion National Park, choosing a local word commonly used by the Mormon community living in the area over the hard-to-pronounce Paiute word and remains the name by which we know it today. But Zion history didn't unfold quickly from there. It would be decades before a steady stream of tourists would make their way to Springdale, UT on a yearly basis to see the wonders of Zion.
Particularly before the name change, many employees within the park service (including park directors) later cited the Native American name, being difficult to spell and pronounce, as a main reason why it took so long for the park to be considered in the travel plans of early 20th century travelers. According to Zion history, Mukuntuweap means "straight river" or "straight canyon". The word was originally used as a name for the area when it was bestowed in 1872 by John Wesley Powell, an explorer and surveyor. Another important name in Zion history is Isaac Behunin, an early Mormon settler who lived in the area and is said to have consistently referred to the majestic cliffs of Zion as "natural temples", being the first one, according to record, to refer to the area with the word Zion. Behunin is also credited in Zion history with naming many of the park's landmarks.
Finally, recognition was substantially received when, in 1917, Director Albright (acting Park Service Director at the time) visited the park for the first time. According to record, he was completely floored by the incredible beauty of Mukuntuweap National Monument. Previous to his initial visit, Albright said that he had heard "Yosemite was a Zion without color", so naturally he needed to see for himself. Later, Zion history quotes him as saying, "…this didn't faintly prepare me for the reality…". From that day on, Zion remained one of Albright's favorite locations in the country, giving special attention to it by declaring a "personal crusade to mold it from a little national monument into a great national park." Shortly after Albright's visit, the moniker "Mukuntuweap" was officially dropped and replaced with "Zion", renaming the place Zion National Monument in 1918. This was in large part due to the fact that Albright heard most Southern Utahns refer to it as Zion even though that wasn't the official name at the time. Then, in 1919, the name as we know it today, Zion National Park, was approved by Pres. Wilson, and the rest is Zion history.
That same year was the very first year statistics regarding Zion visitation were kept, recording 1,814 visitors (in 1914, only 300 people came). That number has steadily climbed almost every single year since then. Back in those early days of Zion history, the construction of the Zion-Mt Carmel Tunnel and the implementation of the shuttle system helped facilitate a new wave of visitors, not to mention the fact that roads in and around Zion were improved over time, allowing for ease of travel.
Today, Zion is the third-most visited of all the national parks (Grand Canyon is #1, Great Smoky Mountains #2). Close to 5 million visitors entered the park in 2017, a number that would have seemed unfathomable to early Zion history participants. Just how many people is that? Enough to prompt park representatives to contemplate the potential idea of a reservation system in order to minimize the impact that so many people have, year in and year out, on Zion's ecosystem. Though there are new concerns as a result of popularity, new chapters are added to Zion history each year as Zion National Park remains one of the most unforgettable locations on Earth.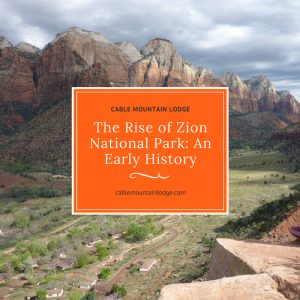 The Rise of Zion National Park: An Early History
Zion History
Article by Clear Content Marketing