5 Zion Activities Near Cable Mountain Lodge
5 Zion Activities Near Cable Mountain Lodge
As always, at Cable Mountain Lodge we want to help you have the best Zion Canyon experience
you can possibly have. In this article, we highlight some particular Zion activities that can be done in the area as well as specific locations and other recommendations to assist you in maximizing your stay in Springdale, UT. There are certainly a lot more things to be done and seen than what's listed here, but here we've highlighted in some detail a few of the most popular Zion activities.
Hiking
Hiking is Zion's most common activity and that is not a surprise whatsoever. Zion National Park is home to some of the most memorable hikes in America. Well-known trails such as Angel's Landing, Observation Point, The Narrows, and others take hikers through awe-inspiring landscapes unique to Southern Utah, as do other trails that get unfortunately less limelight such as Taylor Creek, West Rim, Canyon Overlook. There are over a hundred named trails within the boundaries of the park that can service hikers of any age, experience level, or preference. Hundreds of more hikes exist in the areas surrounding Zion like Kanrraville, Hurricane, and St. George. If hiking is what you've come here to do, you've come to one of the best places in the world.
Biking
Biking is an extremely popular pastime in Zion Canyon as the local adventure outfitting companies can attest to by their bike rental numbers. There are three trails, in particular, that should be recommended. Gooseberry Mesa, Kolob Terrace Road, and the one and only Zion Canyon Scenic Road. Between these three fantastic routes, you can have your pick of strenuous or leisurely as well as your choice of terrains – cliffs, mountains, forest, desert, you name it. If you enjoy road or mountain biking, consider bringing your own bike to Springdale on your next visit and make it one of your Zion activities.
Canyoneering
Canyoneering is not the exact same as rock climbing as it specifically involves traversing through literal canyons while engaging in rappelling, swimming, jumping, climbing, scrambling, and walking. When you stay at Cable Mountain Lodge, you'll have close access to some amazing canyoneering locations. Zion is home to both technical and beginner routes. If you've never gone canyoneering and it sounds interesting, book a canyoneering tour with one of the many adventure outfits in Springdale. They'll get you suited up with the proper gear and lead you through incredible Zion backcountry for an unforgettable experience.
River Tubing
The Virgin River is an incredibly fun place for tubing. The river runs directly next to Cable Mountain Lodge. If you're bringing your family, make sure river tubing is one of the Zion activities that finds its way onto your itinerary. Everyone will have a blast! Just make a visit to a place in town that rents tubes and take advantage of one of the most fun and underutilized Zion activities. The Virgin River is nice and calm and will provide an incredibly memorable and relaxing experience for everyone.
Golfing
Southern Utah has some of the absolute best golf courses in the state, including Sand Hollow
Resort and Sky Mountain, both in nearby Hurricane, UT which is less than an hour away from
Springdale. These are wonderful Zion activities. There are even more great courses in St. George like Dixie Red Hills, Red Rock, Sunbrook, and more! Bring your clubs and swing away at one of the many courses in the area.
Conclusion
When you stay at Cable Mountain Lodge, you have direct access to some of the most fantastic
outdoor activities imaginable. Ask a representative at our front desk for even more Zion activities recommendations.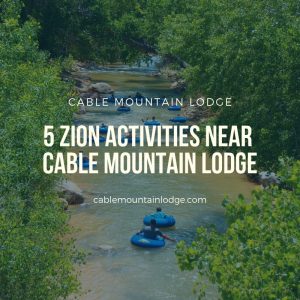 5 Zion Activities Near Cable Mountain Lodge
Article By: Clear Content Marketing