Wintertime Activities in Zion National Park
Wintertime Activities in Zion National Park
Zion National Park – and Southern Utah in general – is known for its mild winters. Snow is extremely rare in Zion Canyon (you've probably seen some of the photos taken by photographers who were fortunate enough to catch a glimpse of it before it quickly melted away). Because the summer is far and away the most popular time of the year to visit a Zion National Park hotel, the winter months are much less crowded and offer a decidedly more peaceful vacation experience compared to the hustle and bustle of the summer. The tourists and locals who stay in Springdale, UT during this time have a long list of activities and excursions to choose from, most of them exactly the same as what summer visitors do. Here are some of the great adventures that await you should you decide to stay in a Zion National Park hotel during the winter months.
Biking
Many annual visitors consider the winter months to be the best time of year to bike in Zion National Park. Some highlights: the Scenic Drive is popular and offers 6.5 miles of incredible scenery. Gooseberry Mesa, though a bit more advanced and technical, is also a favorite.
Cross-Country Skiing
This one often surprises people, but Zion's cross-country skiing is really good. There are multiple adventure outfits based in Springdale, UT who take guests on cross-country skiing adventures.
Fine Dining
Though some may not consider eating an official Zion activity, we do. The food is just too good to not include it on this list. Almost all of the town's restaurants are open year-round and there are some incredible establishments here. The restaurant circuit becomes better known and increasingly lauded every year.
Hiking
This is the most obvious entry to our list of winter activities in Zion. To some, hiking in Zion during the off-season is the best because the sun isn't beating down, even at midday. The weather is perfect during the day. You'll love hiking in Zion National Park during this time.
Photography
The fall colors are in spectacular bloom during the off-season. Zion Canyon during the fall and winter are a photographer's dream. Definitely, make sure your memory cards have plenty of space on them before you head to Springdale.
Scenic Drives
The shuttle system shuts down after Thanksgiving Day which leaves all visitors free to drive through the park as they please. You literally have hours worth of absolutely breathtaking roadside scenery to view between Zion and Bryce Canyon and beyond. If scenic driving is something you enjoy, this is about as good as it gets. It's incredible. From the moment you wake up in your Zion National Park hotel and look out a window, you're guaranteed to something special.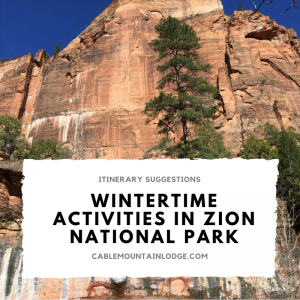 Wintertime Activities in Zion National Park
Zion National Park Hotel
Article by Clear Content Marketing