A List of Non-Strenuous, Simple Zion Hikes
A List of Non-Strenuous, Simple Zion Hikes
The many hikes in Zion National Park cover pretty much every level of difficulty from the very easiest of trails to incredibly difficult ones that require technical experience and equipment. But not everyone who stays in Zion Natl Park lodging and visits the park is coming to test their physical limits on the trails. Some, perhaps like yourself, prefer to slowly and easily take in the sights and sounds of beautiful Zion National Park and Springdale, UT without the leg burn or the necessity of safety guard rails. Here is a list of non-strenuous, simple hikes in Zion that are not long, include very little uphill walking (some not at all), and are still fantastically beautiful.
Lower Emerald Pools
The famous (and paved) Emerald Pools is one of Zion's most popular and well-worn trails not just because the trailhead is directly across from the Zion Lodge but because it's an incredibly effective way to see what Zion has to offer crammed into a short, simple hike. To get to the lower section is only a little over a mile round-trip and should take about 30 minutes or so. This is an easy but beautiful hike, and certainly feel free to continue on up to the middle and upper sections of Emerald Pools if you want to. The higher up you go, the more strenuous the hike becomes; nothing extreme, though. You can even bring wheelchairs and strollers on this one. Definitely venture outside Zion Natl Park lodging to experience this one.
Virgin River (West Bank)
This is one hike that unfortunately doesn't make it on to many first-time visitors itineraries, which is a shame because this is a Zion favorite of those who, while staying at Zion Natl Park lodging, have taken the time to experience it. At about 2 and a half miles (one way) and a distance of a mile and a half (also one way), this extremely level trail is gorgeous. The trailhead begins at the Court of the Patriarchs (taking the shuttle is the easiest way to get there). Along the way, you'll have access to Emerald Pools, if you felt like a diversion. You'll likely see some mule deer and plenty of birds along with stunning views of the Great White Throne, the Spearhead, Cathedral Mountain, and Mount Majestic. The trail ends at the Grotto. There's lots of shade on this trail but still bring a hat and/or sunscreen and, as always, water.
The Watchman
To get this trailhead, leave your Zion Natl Park lodging and take a personal vehicle or shuttle to the Watchman Campground. The beginning of this hike is a small walk from that point. This hike has just as many amazing views and geological wonders to see as some of the marquee hikes in Zion, and it's only 2 miles round trip and shouldn't take more than an hour total at an average speed. You'll find yourself privy to spectacular views of Zion landmarks such as the Towers of the Virgin, the Virgin River, of course, The Watchman, and Bridge Mountain. You'll also be treated to a great view of the Zion switchbacks. Start this hike in the morning or later in the day as shade on this trail is minimal.
Water Canyon
This is a great beginner slot canyon trail that will get you warmed up and primed to later experience The Narrows and The Subway (which are much more strenuous and technical than this). You'll travel through some tunneled walls and a small amount of water. If you've got children with you, make sure to be aware of slippery ground covered in moss. The older children should enjoy this one very much. Of all the hikes on this list, this is probably the most "strenuous", but on this list that still doesn't mean very much. Water Canyon certainly qualifies as non-strenuous. You'll love it. Depending on your speed, the 2-mile round-trip should take somewhere between 45-75 minutes. To get to the trailhead, from Hurricane, go east on UT 59 to Hilldale, turn on Utah Avenue (east) and then turn right on Water Canyon Road. Drive until you see a pond and you're there!
Remember to choose Cable Mountain Lodge as your Zion Natl Park lodging of choice and our representatives on site will be glad to help you with suggestions to fill your Zion itinerary with.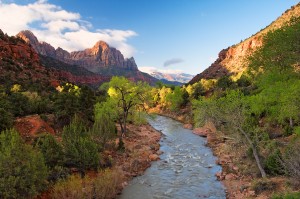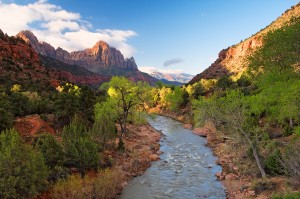 A List of Non-Strenuous, Simple Zion Hikes
Zion Natl Park Lodging
Article by Clear Content Marketing