Zion Restaurants and Lodging
Zion Restaurants and Lodging
Zion National Park, over the years, has attracted at least three things:  delicious restaurants, excellent hotels, and millions of tourists each year.  Whether you're a rugged adventure seeker or a leisurely lover of nature, Zion restaurants and hotels will more than satisfy.  This article presents some of the best Zion restaurants and lodges in Springdale, Utah, which sits just outside the main entrance to Zion Canyon.
Zion Restaurants
The eateries near Zion National Park are as varied as in Anytown, USA.  From fast food to fine dining, you get to choose what suits you. The recipes range from traditional Pioneer favorites to creative combinations to new cuisine brought in by award-winning chefs from other states and countries.
The Spotted Dog Café is an American bistro whose menus change with the seasons.  Of all the Zion restaurants, the Spotted Dog stands out for its feast-worthy breakfast buffet, served from 7:00 am to 11:00 am daily.  The buffet includes fruit, cereals, oatmeal, eggs, bacon, biscuits and gravy, French toast, yogurts, and muffins.  The dinners feature regional recipes, kinds of pasta, homemade soups, fresh salads, bistro delights, and rich and savory desserts. The wine list has earned the Award of Excellence by Wine Spectator Magazine since 2009.  The Spotted Dog Café is located inside Flanigan's Inn.
The Whiptail Grill Zion is known for its delicious Mexican food and superior customer service.  You can order Southwestern, vegetarian, Asian, or American burgers, along with your choice of beer and wine.  Fun and zesty, the Whiptail Grill is one of the top Zion restaurants and eateries.  
Bit and Spur Restaurant and Saloon is also famous for its excellent Mexican cuisine.  It gets high reviews and many repeat customers. Bit and Spur began in the 70s as a bar and pool hall.  A restaurant was added in 1981, when Chef, Michael Perry, came in to create tasty dishes. Later, Brad Tarran arrived to ramp it up with mouth-watering dishes like Hawaiian seafood, roasted pineapple risotto, and deep-fried, green tomatoes.  Live music enhances the experience at Bit and Spur.
Zion Lodging
Springdale boasts many classy hotels, both familiar national chains, and unique enterprises.  Most of the hotels offer nice amenities and the free shuttle to and from the Park throughout the day, but no hotel is finer than the Cable Mountain Lodge (CML).  Classy, convenient, and accommodating are three hallmarks of Cable Mountain Lodge. Now featuring new conference rooms, CML is a great place for conventions, retreats, and reunions.  Rooms are beautiful and indulgent, and amenities very satisfying. The convenience of CML cannot be overstated; no other hotel is closer to Zion's entrance, and popular businesses stand within walking distance to CML.  Be sure to check CML's website for stunning photos, specifics on amenities, pricing, and availability.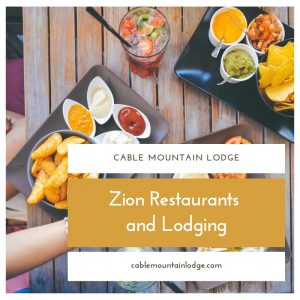 Zion Restaurants and Lodging
Article By: Clear Content Marketing