4 Reasons to Hold Your Company Retreat at Cable Mountain Lodge
4 Reasons to Hold Your Company Retreat at Cable Mountain Lodge
Finding the right place to hold a company retreat can often be a difficult task. Anyone who finds themselves a position of planning a company retreat certainly hopes to find an appropriate location and organize the experience in such a way that the negative stereotypes that are sometimes associated with these events can be avoided. Ideally, employees and others who attend should have a fun, uplifting, and motivational experience. When it comes to company retreats in Southern Utah, there is no place better than Zion Canyon. And within Zion Canyon, there is no place better than Cable Mountain Lodge.
Within weeks of this post, Cable Mountain Lodge will be unveiling a brand new amenity: state-of- the-art conference room space. Our conference room will have the ability to accommodate hundreds of attendees in addition to having large kitchen facilities for dining convenience right on the property. To help you create your event itinerary, here are 4 reasons to hold your company retreat at Cable Mountain Lodge.
Proximity to Zion National Park
Pairing activities inside Zion National Park with a company retreat is a surefire way to create a memorable experience for everyone. The easiest way to accomplish this is by staying at Cable Mountain Lodge due to the fact that there is no hotel in Springdale closer to the entrance of the park. If you have potential attendees who have never been to Zion before – which is probable – bringing them here will be an unforgettable experience for everyone but particularly for them.
Conference room
As we mentioned above, Cable Mountain Lodge's new and unique conference room is exactly what any company retreat needs more than anything – a large, comfortable, inviting space with luxurious seating arrangements, modern technology, and convenient catering options. Trainings, speeches, and presentations can be given with ease, mentally and technologically. Our conference space has the ideal furniture pieces and accessories for the simplest or most extravagant company retreat.
Ideal businesses nearby
Within mere steps from Cable Mountain Lodge are businesses that will provide you with everything you need for a proper Springdale, UT trip. Zion Brew Pub is Zion Canyon's premier destination for a cold brew as well as world-class lunch and dinner entrees. The Happy Camper Market is a one-stop shop for virtually anything you would need in terms of quick food items, toiletries, dairy products, meat, and a lot more. Zion Outfitter is Springdale's most popular and respected adventure company. Any clothing item or accessory that you could ever want or need for any activity inside the park can be rented or purchased there. And Toaquim's Village, hands-down the best gift shop in town, is right next door to Cable Mountain Lodge, as are the other places mentioned here. Every attendee of your company retreat will everything they'll need for the duration of their stay right next door.
Restaurant and Catering Options
CML's new conference facilities will have it's own in-house catering options to make things as easy and convenient as possible. And if you have your heart set on other options, there are many phenomenal places in Zion Canyon that cater. When it's time to go out to eat, Springdale's restaurant scene is nationally renown. Prominent chefs from Las Vegas and beyond have traveled to Zion Canyon and set up their own operations. Other dining establishments are longtime favorites. Whatever you happen to have a hankering for at the moment, there is certainly a restaurant in Springdale that will provide. Mexican, Asian, pizza, burgers, ice cream, steakhouse, sports grille, seafood – you name it.
Conclusion
Make Cable Mountain Lodge your location choice for your upcoming company retreat. There isn't a more ideal spot in Zion Canyon. And in choosing CML, you'll be utilized the newest and nicest conference room facilities in Southern Utah.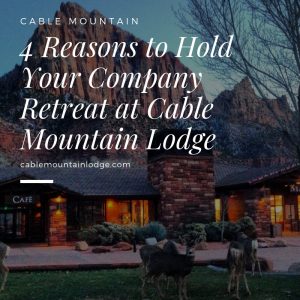 4 Reasons to Hold Your Company Retreat at Cable Mountain Lodge
Article By: Clear Content Marketing