Visit Bryce and Zion during off-Season
Visit Bryce and Zion during off-Season
The "Disneyland Effect" applies to Utah's Zion and Bryce Canyon National Park as well.  This means that, like Disneyland, the parks are more crowded during school breaks and less visited during the cooler months.  This makes more advantages than disadvantages to vacationing Zion in winter, so being educated on the characteristics of the parks from summer to winter bodes well for planning your vacation.  This article presents the pros and cons of visiting Zion and Bryce during the off-season when school is in session.
Climate Difference Between Zion and Bryce
Zion National Park ranges from 3,700 to 8,726 feet in elevation, while Bryce's elevation begins at 6,620 feet and rises to 9,115 at the highest points.  Because Zion sits at overall lower elevations than Bryce, its climate is milder in winter and hotter in summer.  Zion sees less snow in winter and more heat in summer than does Bryce; therefore, serious hikers generally need better gear for ice and snow in Bryce than in Zion.  This doesn't mean that Zion's trails will always be easy trekking; on Zion's trails of higher elevations, snow and ice are common in winter months.
During summer months, the temperatures at Zion's lower elevations can be around 100 degrees Fahrenheit (38 Celcius), and Bryce's temperatures are usually about 10 degrees cooler.  Spring and fall weathers are friendlier for outdoor activities when daytime highs at Zion are in the 70s and 80s, and overnight lows are in the 40s. Bryce sees a lot of the 60's in afternoons of fall and spring, while nights can be at freezing temperatures.  In Zion's off-season, the weather is unpredictable, sometimes snowing and freezing, sometimes nice and dry.
In both parks, weather conditions can restrict some activities in the off-season and during summer.  For example, at Zion you'll want to avoid long hikes in midsummer when the scorching sun is baking the park; and at Bryce Canyon, winter storms can make hiking on steep trails dangerous with ice and snow.  Trekking the Narrows of Zion in July can be tragic in an afternoon rainstorm. Rain will turn a babbling brook into a raging torrent, which can sweep you away to your demise.
Expense Between the off-Season and Summer Months
Because of colder weather and smaller crowds in Zion's off-season, your costs will be lower, especially for hotels in Springdale, Utah, which stands just outside the main entrance to Zion.  Some hotels charge half as much in January as in July, and vacancies are plentiful. Classy hotels, like Cable Mountain Lodge, are more accessible in Zion's off-season than in summer, when vacancies are harder to come by.  Cable Mountain features gorgeous suites, comfortable studios, wedding venues, picnic area, pool, hot tub, discounts for groups, and many other amenities. Food in Springdale can be a little more expensive because restaurants know you have to eat.  Convenience cost, like in airports, affects Springdale, too.
Photography in Winter
With fewer visitors in Zion and Bryce during the off-season, wildlife hangs around more visibly.  You have a much greater chance of seeing deer, elk, and other animals in the cold months.  Also, the lack of vegetation in winter brings animals to lower elevations to forage for food.  You can get stunning photos of animals against a backdrop of red rock, blue sky, and if you're lucky, some snowcapped hills.  A view of red hoodoos (naturally-sculpted statues) topped with white snow at Bryce Canyon is special and makes beautiful photography.
Access to Zion Park in the Off-Season
The smaller crowd of winter means no shuttle from Springdale's hotels to the park in Zion's off-season.  Drive your car right up to trailheads, and see things with more independence.  And in case someone sprains an ankle, your car is nearby to quickly transport the injured to the comfort and ice of your hotel.
Activities and Events in Zion's Off-Season
While there are fewer organized events in Zion's off-season, there are more park rangers available to talk with.  So, take advantage of their knowledge and guidance. Both summer and winter present challenges to hikers.  Summer hikes require more water and electrolytes to restore fluids, and winter hikes require more clothing and better foot-ware for traction on the possibly icy and snowy trails.  Hiking, cross-country skiing, or snowshoeing across Zion Ponderosa's forested plateau to Observation Point will take you to one of the most breathtaking vistas in Utah, and it's safer than tackling the East Rim Trail.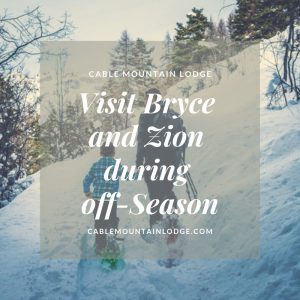 Visit Bryce and Zion during off-Season
Article By: Clear Content Marketing