Zion in the Fall: The Best Time to Visit
Zion in the Fall: The Best Time to Visit
One of the greatest things about Zion National Park (and Southern Utah in general) is that the weather is great year round. The summer is still the warmest and the winter is still the coldest, but the disparity between the two seasons is much more minimal compared to more temperate climates. In fact, many tourists consider Zion in the fall to be the most desirable time of year to visit the Park. There are some very compelling reasons that this is the case, and this smaller and well-informed group of travelers have discovered a secret to a fantastic vacation that is quite different from a summertime Zion excursion. Here are some of the reasons that make a Zion fall vacation extremely appealing as well as the best time to book a Springdale, UT hotel.
Vacancy
The springtime and summertime see the largest influx of visitors to Zion, which leaves fall and winter ripe for the taking. Planning your Zion trip and booking a Springdale, UT hotel during the fall allows you to comfortably book your hotel stay on whatever dates you want without fear of establishments being full. Don't bother yourself with calling in advance to make a reservation at your favorite Springdale restaurant. You'll have your selection of any restaurant anytime. And certainly, don't worry about standing in line waiting for a shuttle. You'll be escorted to the front of the line. And after Thanksgiving Day the shuttle system stops running so you can drive your personal vehicle through the park to your heart's content.
Weather
For reasons that probably have a lot to do with well-timed photography, many people are under the misconception that Zion Canyon is covered in ice and snow during the later seasons. This isn't true. Sure, every so often there's a year here and there that experience a rare and light snowfall, but that snow will be lucky if it lasts the duration of the day, if it ever got the chance to fall in the first place. Daytime weather during the fall in Springdale is ideal – not too cold and not too hot; perfect for just about everything and anything you'd want to do in Zion National Park while staying at your Springdale, UT hotel.
Colors
Zion National Park during the fall is as beautiful as any place anywhere. Once you see it, you can't unsee it – and in this scenario, that's a good thing because you're not going to want to. Make sure that when you book your Springdale, UT hotel you've got plenty of space on your camera.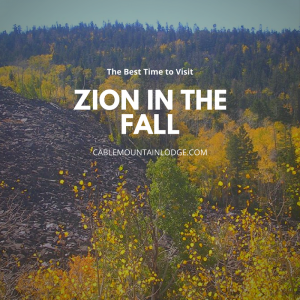 Zion in the Fall: The Best Time to Visit
Springdale, UT Hotel
Article by Clear Content Marketing