Adventures to Include in Your Zion Itinerary
Adventures to Include in Your Zion Itinerary
If you don't live in Utah, a vacation to Zion National Park may occur once in a lifetime, so you don't want to leave out the best parts.  Your Zion itinerary should include activities which will make lasting memories.  Whether you're athletic enough to tackle the magnificent hikes or spiritual enough to appreciate the grandeur of Southern Utah, you can customize your Zion itinerary to recreate, rejuvenate, and cogitate.
Zion's Best Hikes For Families, Regulars, and Athletes
Before tackling the many hiking trails of Zion Canyon, consider the ages and fitness levels of your group.  You may need to split up into two or three groups to make sure the hikes are enjoyable and not miserable for everybody.  Mild to moderate to strenuous hikes can be parts of your Zion itinerary.  
The Canyon Overlook Trail is a family favorite; it's short, passes through a natural cave, and provides a stunning view of Zion Park, below.  About one mile of walking takes you to an amazing vista of beauty.
The Emerald Pools trails are well-known as family-friendly, short hikes.  From one to three miles round trip, enjoy colorful pools, waterfalls, and vegetation.
Some say that your Zion itinerary must include a hike through the famous "Narrows. " Zion Narrows follows the Virgin River, three to eight miles, lined by walls of sandstone tunnel.  You'll walk most of it in the river, which is shallow enough for most hikers, but can be tiresome because of resistance. Wear good water shoes. The Narrows is rated moderate to strenuous intensity.  This hike will feel refreshing on a hot, summer day until it begins to rain. Rain can flood down the canyon, occasionally washing people to their demise, so be sure to check and recheck the weather forecast before starting out.
Angel's Landing (five miles round trip) is Zion's most iconic hike because of its thrilling climax on a narrow ridge and its spectacular views.  Toward the landing, you'll hold onto a chain railing, attached to a narrow ridge, to keep you from becoming vulture food, down the cliff. If you are afraid of heights, do not venture to Angel's Landing.
Springdale, Utah
The charming town of Springdale, Utah makes a great home base for your Zion itinerary because it stands just outside the entrance to Zion National Park and possesses excellent hotels, restaurants, and gift shops.  The hotels, such as Cable Mountain Lodge, are classy and unique. The gift shops and restaurants feature lots of traditional, local flavor, as well as imported talents and skills. Most of the hotels offer a free shuttle to and from the Park throughout the day.  The views from the hotels are stunning, and the amenities will not disappoint. Besides Springdale and Zion Canyon, there are other fascinating adventures within one to two-hours driving distance from Springdale. You may want to include these in your Zion itinerary.
Zion Ponderosa Ranch Resort
Zion Ponderosa Ranch Resort is one of America's top-rated adventure resorts and is only a 45-minute drive north of Zion Canyon and Springdale.  Zion Ponderosa is nestled amid mountains with green pines, white aspens, and rustic panorama. For vacationers who want a variety of outdoor recreation, the Ponderosa shines big in a Zion itinerary.  Activities include paint-balling, horse-back riding, zip-lining, rappelling, shotgun shooting, Jeep touring, swimming, and camping in rustic, Cowboy Cabins.
Bryce National Park
About 90 minutes north on the highway stands one of the country's most popular national parks—Bryce Canyon.  Bryce shines with vibrant colors: greens, whites, reds, oranges. It is commonly included in a Zion itinerary.  The reddish Hoodoos are probably the most memorable parts of Bryce National Park.  These alien-like rock formations stand like guards over the serene canyons and valleys of Bryce.  Gaze and photograph the hoodoos from one of the many pullout viewpoints along the highway, or hike down a trail to get up close and personal.  The Hoodoos were sculpted over thousands of years by wind and water.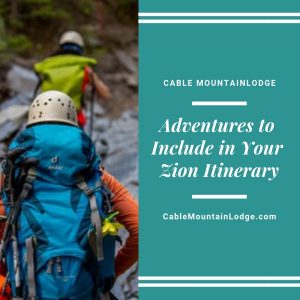 Adventures to Include in Your Zion Itinerary
Article By: Clear Content Marketing