3 Non-Hiking Activities in Zion National Park
3 Non-Hiking Activities in Zion National Park
Though hikes are far and away the most popular Zion activities, some of us like to have a little downtime during our trip or simply prefer the less strenuous, more leisurely endeavors no matter where we travel. For those in this group, here are 5 fantastic Zion activities that have nothing to do with hiking that visitors can enjoy.
Short Walks
Strenuous and challenging hikes aren't the only types of trails in the park. There are quite a few non-strenuous, leisurely trails that reward travelers with just as much natural beauty as the big-name hikes. Here are a few:
Pa'rus Trail
This wonderfully peaceful trail is paved, flat, is almost 4 miles long (roundtrip), and has amazing views the whole way. It has wheelchair access and is the only official trial inside the park where you can walk your dog. Dogs must be on leashes at all times, remember. The Pa'rus Trail starts near the south campground and goes to Canyon Junction and is one of the best Zion activities.
Riverside Walk
This is another one of the few paved trails inside Zion and is one of the most popular Zion activities. Riverside Walk isn't near as flat as Pa'rus and has some twists and turns and slight elevation changes, but as already mentioned, it's paved and stunningly beautiful. It follows the Virgin River so you'll have great views of the water as well as some hanging vegetation that creates some shady spots. This is the path that leads to the Temple of Sinawava which is the bottom of the Narrows. This trail is just over 2 miles long and has extremely easy access near the visitor center.
Lower Emerald Pool Trail
This is also one of the most popular trails in Zion due to its easy access and very moderate difficulty level. Though it is not paved, it is only barely over a mile long (roundtrip) and, as usual, provides incredible sights to see. This is one of the great Zion activities for first-time visitors because it's short and really packs so many of the sights that give folks a real taste of what Zion has to offer in terms of visual beauty.
Rent a Bike
Rent a bike at one of the many equipment rental establishments in Springdale or bring your own and cruise the Pa'rus Trail, the only trail in Zion National Park that allows bikes. The other great Zion bike ride is the Zion Canyon Scenic Drive. No matter the season, both of these trails should satisfy any cyclist looking for Zion activities on two wheels. If you do it in the winter time there will be cars on the road. But if you do it Feb-Nov, the occasional shuttle and fellow cyclist are all you'll see. Speaking of park shuttles, most of them have bike racks so that cyclists can hitch a ride to any of the stops and then bike back down. There aren't any big hills on this scenic route so you don't need to worry about that. Final note on bikes in the park: there are even bike tours that you can sign up for which are a lot of fun and make for fantastic Zion activities
Zion-Mt. Carmel Highway
Do you like scenic drives? Zion has one of the absolute best. Many scenic-drive enthusiasts site this particular route as one of the most beautiful in the nation and certainly one of the very best Zion activities. Stay in the comfort of your own vehicle and still experience the spectacular beauty of Zion. You'll get to drive through the famous Mt. Carmel Tunnel as well.
Conclusion
Two Zion activities that we'll include as honorable mentions are the Kolob Canyons scenic drive which is about 40 miles north of the main canyon as well as Zion National Park helicopter tours. Both Zion activities are amazing and don't require any hiking at all!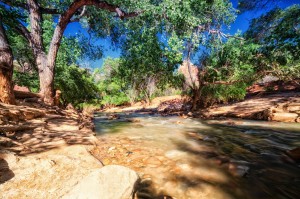 3 Non-Hiking Activities in Zion National Park
Zion Activities
Article by Clear Content Marketing