Dining Recommendations Near Zion National Park
Dining Recommendations Near Zion National Park
In the beautiful town of Springdale, UT, there is no shortage of incredible places to eat. In fact, Springdale has made quite a name for itself over the years in the foodie community, particularly in recent years as Zion National Park has become more popular than ever. There are some absolutely incredible Zion restaurants here that will likely become some of your favorite and most memorable places to eat. Here are some Zion restaurants that we know you'll love.
Full-Service Restaurants
Zion Pizza Noodle
Often affectionately referred to as "The Pizza Noodle", this is where you want to go to get the best pasta and pizza in town. Choose from delightful indoor and outdoor seating areas. This building was once an old church before being converted in 1983 for commercial use, making it one of the most historical of the Zion restaurants.
Location: 868 Zion Park Blvd. Springdale, UT 84767 / 435-772-3815
Switchback Jack's Sports Grill
If you want to watch sports and/or have a drink with your meal in a more relaxed, casual environment, this is your place. A large brew menu that focuses on selections from local breweries, have a burger or famous rice bowl while you watch anything from the Kentucky Derby to the NFL Sunday Ticket.
Location: 1215 Zion-Mt Carmel Hwy Springdale UT 84767 / 435 772-3700
Bit & Spur Restaurant & Saloon
Specializing in southwest-style entrees, this fantastic place has a rustic ambiance and includes billiards and a full bar. Live music is performed here on a scheduled basis. They have delicious steaks (ribeye is recommended), tamales, and a slew of great appetizers and desserts. A very unique place among Zion restaurants.
Location: 1212 Zion Park Blvd Springdale UT 84767 / 435-772-3498
Barefoot Taqueria
Barefoot Taqueria is (as of this writing) is the newest of all Zion restaurants and the only one of it's kind in town. Located inside the Springdale & Zion Canyon Visitor Center, come here for crazy good tacos, burritos, bowls, salads, and more.
Location: Springdale Visitor Center / 1101 Zion-Mt Carmel Hwy Springdale UT 84767 / 435-267-2153
Spotted Dog Cafe
Described as a casual American bistro, this delicious place also has the most extensive wine selection in Springdale and makes all of its sauces in-house using fresh ingredients.
Location: 428 Zion-Mount Carmel Hwy Springdale UT 84767 /435-772-0700
Oscar's
If you like large portions, you're going to love Oscar's. Laid back, casual, and lots of parking, this fun and social environment is great for large and small groups and has enough variety on the menu to satisfy anyone's taste. This is a longtime favorite among Zion restaurants.
Location: 953 Winderland Ln Springdale UT 84767 / 435-772-3232
Switchback Grille & Steakhouse
For fresh fish and prime steak lovers (whatever your favorite cut may be), Switchback is where you'll want to go. They have a huge wine list as well. The atmosphere
Location: 1201 Canyon Springs Dr Springdale UT 84767 / 435-772-3700
Cafes & Coffee
Cafe Soleil
This is the closest of all Zion restaurants to the entrance of the park and offers a wife variety of specialty coffee choices, paninis, healthy sandwiches, vegan selections, smoothies, and more. For the gluten-free folks, this will be one of your favorite spots.
Location: 205 Zion-Mt Carmel Hwy Springdale UT 84767 / 435-772-0505
Deep Creek Coffee Company
A great place to hang out, open your laptop, and sip some coffee. Don't forget to try the famous Bro-rito as well as other high-quality breakfast items.
Location: 932 Zion-Mt Carmel Hwy Springdale UT 84767 / 435-767-0272
River Rock Roasting Company
Making a name for itself as one of the best coffee shops in the state, River Rock Roasting Company has awesome food and coffee with a wide range of selections. Check out the phenomenal canyon views from their outside seating area. Coffee at Zion restaurants don't get much better than this.
Location: 394 S State St La Verkin UT 84745 / 435-635-7625
The next time you come to Springdale, be sure to use this list of amazing Zion restaurants for all your meals. You will not be disappointed.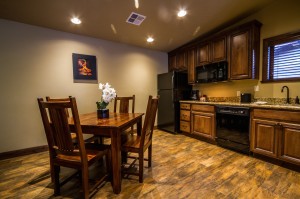 Dining Recommendations Near Zion National Park
Zion Restaurants
Article by Clear Content Marketing